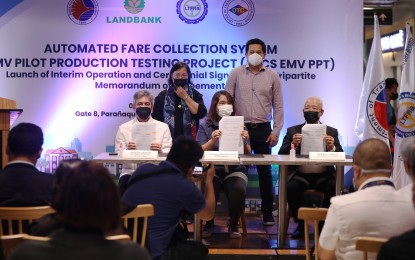 MANILA – The Department of Transportation (DOTr) and the Land Bank of the Philippines (Landbank) on Thursday began the pilot test on the use of EMV-compliant prepaid, debit, and credit cards for cashless payment in public transport.
EMV cards are prepaid, debit or credit cards with an embedded microchip designed for secure payment at compatible point-of-sale terminals and are named after its founders – Europay, MasterCard, and Visa.
The program, dubbed the "Automated Fare Collection System (AFCS) EMV Contactless Pilot Production Testing", was rolled out in a ceremony at the Parañaque Integrated Terminal Exchange (PITX) where the DOTr, Landbank, and the Bangko Sentral ng Pilipinas signed a memorandum of agreement.
The program would allow for the convenient use of EMV-compliant contactless credit, debit, and prepaid bank cards as cashless payment instruments in public transport.
It will test the real-time use of the system to help the DOTr develop national standards for a cashless AFCS that can be used in all modes of transport.
It is also open to different AFCS providers to avoid a monopoly and can work with different AFCS.
A total of 150 modern jeepneys in selected pilot sites in the National Capital Region, Central Luzon, Calabarzon, and Metro Cebu would accept payment from Landbank prepaid and credit contactless cards for the program's first month.
Randy Montesa, head of the Card and Electronic Banking Group at Landbank, said the system would be ready to accept contactless MasterCards by its second month.
Once necessary regulations or policies have been released, the Landbank AFCS would accept and process EMV contactless cards issued by other local banks.
Montesa said the use of EMV technology would prevent "card skimming", the method used by some criminals to obtain personal data from prepaid, debit, or credit cards at automated teller machines (ATMs) or point of sales of merchants.
To date, he said, Landbank has distributed about 20 million EMV-enabled cards.
DOTr Undersecretary Timothy John Batan said the transport industry is using more than 20 "fragmented and non-interoperable" AFCS providers.
"By developing an interoperable system, we achieve convenience and an efficient way of planning routes," Batan said.
He noted that the program would be limited to modern jeepneys during the pilot test but it would be rolled out to other modes of transport after the system is adjusted to work on a national scale.
"Dadaan muna tayo sa pilot na nine to 12 months para kung may makita tayo na kailangan i-improve, maayos natin yan bago i-deploy ng malawakan (We will go through a pilot of nine to 12 months so that if we see something that needs improvement, we can work on it before large-scale deployment)," he said. (PNA)