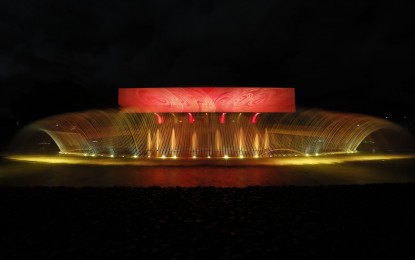 MANILA – The Cultural Center of the Philippines (CCP) will be closed for three years to give way for renovation and retrofitting of the 53-year-old building, CCP chairperson Margie Moran-Floirendo said on Thursday.
During the Senate committee on culture and sports hearing, the former beauty queen said the CCP will be closed starting Jan. 1, 2023 and hopefully renovation and retrofitting works will be done before March 15, 2025.
"I'd like to announce that the CCP is closing its door on January 2023, for structurally retrofitting," Floirendo told the panel chaired by Senator Loren Legarda.
She said they discovered a leak from the roof of the theater when they resumed operations after two years of closure due to the Covid-19 pandemic.
CCP President Jaime Laya said they will be partially moving out this November using corporate funds as the construction will start in January.
Laya said an initial fund of PHP400 million, mostly coming from congressional funds accumulated during the two years closure, will be used to lease offices and theaters in the coming years.
He said that since 2018, the Department of Budget and Management (DBM) has turned down its budget proposal.
Laya, however, said the building closure can be considered as a blessing since this will open an opportunity for them to reach out in the community since CCP itself is considered as an elite venue for programs.
He added that as of now they are now in cooperation with community-based musicians using ethnic instruments called Kanto-Kanta.
The band, according to Laya, is now earning much as it can be subscribed in YouTube and other social media.
Other programs such as "Mga kwento ni Lola Basyang" will be launched in the coming weeks.
"Physical closing is opening to the ground, we fully support that," Legarda said.
Floirendo said the budget for the construction of the main building of CPP was included under the 2023 national expenditures program. (PNA)