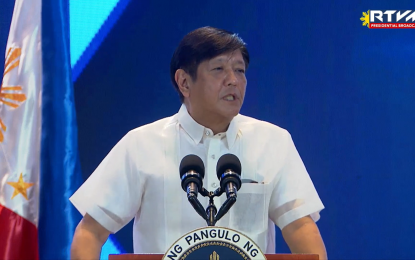 MANILA – President Ferdinand "Bongbong" Marcos Jr. has enjoined the communication experts to join his administration in its fight against misinformation and fake news.
During the 2022 National Public Relations Congress held Thursday, Press Secretary Trixie Cruz-Angeles said Marcos is optimistic that communications professionals would use their voices to "leverage positive communication in stirring the nation towards full recovery and lasting unity."
"The President likewise urges you to join the government in fighting against the proliferation of misinformation and disinformation through inclusive, compassionate, and responsible communication," she said in a speech delivered before public relation (PR) officers and communication experts at the Peninsula Manila in Makati City.
Cruz-Angeles issued the statement, as she noted that the Marcos administration has launched a "One Messaging Policy" which aims to prevent disinformation, misinformation and malinformation through close collaboration among government agencies under the executive branch.
Cruz-Angeles said the government wanted a single messaging because it is "serious" about fostering a "renewed sense of unity" in the country.
She said stepping up the campaign to stop the propagation of fake news would make the Philippines a "stronger" nation.
"By doing so, our country will emerge stronger as we pass this tipping point, a nation where our words may not only be expressed freely but may also be used as an instrument to shape our country's future," she said.
The National PR Congress is an annual event hosted by non-profit organization Public Relations Society of the Philippines and attended by local and international delegates who are PR and communication professionals.
The first day of the 2022 National PR Congress focused on the role of positive communication in nation-building, training "tomorrow's truth champions", harnessing data innovation for truth and good, communicating wellness through the pandemic, and the five-year roadmap that reenvision the new normal.
In August, Cruz-Angeles said the OPS would be coming up with a "more comprehensive" feedback mechanism to enable the Marcos administration to be "more responsive" to the needs of Filipinos.
Cruz-Angeles also acknowledged the importance of public feedback on the performance of the government. (PNA)