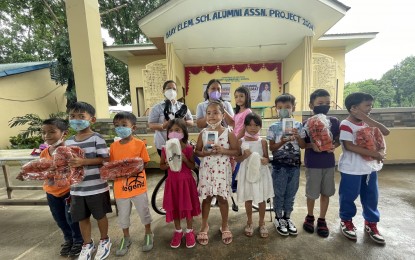 LAOAG CITY – More than a hundred pupils of the Baay Elementary School in Batac City, Ilocos Norte received on Friday an early Christmas gift from a famous celebrity chef in Los Angeles, California.
The recipients, mostly from Grades 1 and 2, were all smiles as Filipino-American chef Vallerie Castillo-Archer handed them brand new, all-weather shoes, backpacks, and school supplies at the Baay school covered court.
Through a raffle draw, some of the kids, teachers, and parents present during the simple gift-giving program also won two units of smartphones, a bicycle, sports watch, athletic shoes, and sports equipment, among others.
Fondly called as "Chef Val" by many, Archer is on a mission to the Philippines to distribute more shoes for the less fortunate children, particularly in her hometown, Batac, where her mother came from before they migrated to the United States when she was six years old.
In an interview Friday, school principal Edaline Reyes said they feel so lucky and blessed for being chosen as one of the recipients of the one-of-a-kind gift-giving and feeding program.
She narrated that when she received a call from a stranger telling her that someone will be distributing shoes to her school, she thought at first that it could be a scam, so she did not take it seriously.
"I just believe it is really true when I saw them coming to our school today," she said, citing the kids were so happy having their new black shoes and backpacks.
Reyes said the surprise gifts for the children are so timely as they just resumed face-to-face classes.
"Life is so difficult these days and we are so thankful for these early Christmas gifts," she said.
The gift-giving program in Baay is just one among the charity events Chef Val attended while on vacation in the Philippines after more than three decades in the U.S.
Through her fundraising drive dubbed, "kickingitwithchefvallerie", which is available at www.gofundme.com, an American for-profit crowdfunding platform that allows people to raise money for events, Chef Val has so far raised USD4,933 with at least 30 donors who support her advocacy. Her goal is to raise about USD10,000 to be able to purchase more shoes to make more children happy in the Philippines. (PNA)