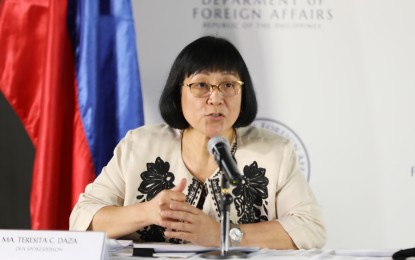 MANILA – The Department of Foreign Affairs (DFA) confirmed on Friday that Indonesia and the Philippines would renew a 1997 defense and security deal during the state visit of President Ferdinand Marcos Jr. next week.
"The active defense and military engagement between our two countries – the Philippines and Indonesia – is really anchored on a 1997 cooperative agreement in the field of defense and security or what is called the DSCA. The agreement has expired and now we're renewing this agreement," said DFA spokesperson Ma. Teresita Daza, in a press conference.
The deal, which expired in 2020, will serve as the mother framework for all defense and security cooperation between Jakarta and Manila.
Daza said the renewal would be "significant" as defense cooperation between the two countries has increased through the years.
Among the collaborations being identified are joint and combined training activities, cooperation on border security, exchange of visits, education, information sharing, and development of interoperability, among others.
The Department of National Defense and Indonesia's Ministry of Defense will sign the agreement, which will be witnessed by Marcos and Indonesian President Joko Widodo.
Also to be signed are the Philippine-Indonesia Plan of Action for 2022 to 2027 and a memorandum of understanding on cultural cooperation.
"The MOU on cultural cooperation hopes to promote people-to-people exchanges and mutual understanding through cultural activities, as well as promotion of cultural-related industries," Daza said.
'Solidying close relations'
Marcos' inaugural state visit is seen to solidify Manila's already close political and diplomatic ties with Jakarta.
As fellow archipelagic states, Daza said the two nations share an extensive porous border and are close partners in maritime cooperation.
The two had, in fact, concluded a landmark agreement on an exclusive economic zone, boundary delimitation in 2014 and are currently negotiating the delimitation of other continental shelf boundaries.
In addition, Indonesia is the largest economy and country in the Association of Southeast Asian Nations (Asean) and has the largest population and market offering great potential for further economic engagement.
Daza said the Department of Trade and Industry is preparing a number of business agreements to be signed between the Philippines and Indonesia as well as Singapore, where Marcos will be heading to on Sept. 6.
"[T]hese will actually be tailored to the priority areas of this administration. So it could include infrastructure, renewable energy, food and security, fertilizer importation, among others," she said. (PNA)