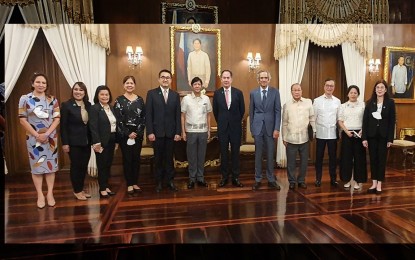 MANILA – The Private Sector Advisory Council (PSAC) -- a group composed of leaders of private companies involved in the infrastructure sector -- has expressed its support for the completion of ongoing and upcoming infrastructure programs of the Marcos administration.
In a meeting with President Ferdinand "Bongbong" Marcos Jr. in Malacañang on Friday, PSAC convenor and Aboitiz Group chief executive officer (CEO) Sabin Aboitiz agreed with Marcos to provide solutions to problems related to infrastructure, water, and energy through public-private partnerships (PPP).
"I am encouraged by the focused and aligned collaboration taking place among the various participants in these meetings with the President. We are all keenly aware and in agreement to the issues that demand attention, and are equally determined to support the administration in finding the right solutions," Aboitiz said.
During the meeting, PSAC representatives recommended revisions to the implementing rules and regulations of the Build-Operate-Transfer Law to encourage investor confidence and strengthen the PPP governing board.
Related to the water sector, it supported the creation of a new department and regulatory commission and implement a "vertical industry structure."
For the energy sector, it called for the expansion of coverage and full implementation of the "Energy Virtual One-Stop Shop" and supported the efforts of the National Grid Corporation of the Philippines.
In the coming weeks, the group is set to meet again with Marcos to discuss the Tourism sector's road map and recommendations.
The President was joined in the meeting by Executive Secretary Victor Rodriguez, Finance Secretary Benjamin Diokno, Public Works and Highways Secretary Manuel Bonoan, Transportation Secretary Jaime Bautista, Energy Secretary Raphael Lotilla, Socio-economic Planning Secretary Arsenio Balisacan, and other government officials.
Other PSAC members present during the meeting were Metro Pacific Investments Corporation chairperson and president Manuel Pangilinan, International Container Terminal Services, Inc. chair and president Enrique Razon, and San Miguel Corporation president and CEO Ramon Ang, among others. (PNA)