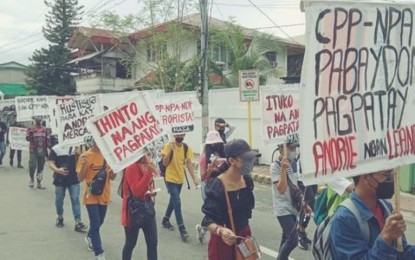 MANILA – Former senator Panfilo Lacson on Friday reminded Senate President Pro Tempore Loren Legarda, who said she has worked with leftists, that the Communist Party of the Philippines-New People's Army-National Democratic Front (CPP-NPA-NDF) is an enemy of the state.
"Simply put, an armed terrorist group -- already designated not only by the government of the Republic of the Philippines but also by the European Union, the United States of America, and four other countries (Canada, United Kingdom, Australia, New Zealand) -- is unequivocally an enemy of the state," Lacson said in a statement.
Legarda shared in Tuesday's Senate session that she has "worked with the NDF and I'm not ashamed of it."
She said she won't judge Commission on Higher Education chief Prospero de Vera III whose sister, Adora Faye, was arrested last week for her alleged role in killings perpetrated by the NPA.
Legarda made a manifestation after Senator Francis Tolentino's privilege speech which suggested that public officials must divulge any ties with terror groups, including the Abu Sayyaf Group and CPP-NPA-NDF.
Lacson, who authored Republic Act 11479 or the Anti-Terrorism Act, said any move to amend the law is a disrespect to the country's uniformed personnel and other victims of the atrocities of CPP-NPA-NDF, which he said "has lost its ideological principles over the years".
"I will not hesitate to be part of the opposition to thwart moves to amend this law in its substantive form which no less than the Supreme Court has declared as constitutional," Lacson vowed, concurring with a recent statement of the National Task Force to End Local Communist Armed Conflict (NTF-ELCAC).
The inter-agency body said Legarda's "sugar-coated pronouncements" show that the lawmaker does not consider the CPP-NPA-NDF a terrorist organization or an enemy of the state.
"If the CPP-NPA-NDF is not an enemy of the state, then, be informed that the government of the Republic of the Philippines considers them as enemies not only of the state but of the Filipino people. The military establishment that you say you are proud to be a member of also considers the CPP-NPA-NDF as the enemy of the peace and security of this country," the NTF-ELCAC statement read, referring to Legarda's rank as a full-fledged colonel of the Philippine Army Reserve Corps.
NTF-ELCAC also warned that if Legarda continues to push for the review of RA 11479, she will betray her oath of office.
"Your proposal to review the anti-terror law is definitely not for the good of the Filipino people. At some point in your political career, Senator Legarda, you must make that most difficult choice of doing what is right at the expense of trying to please everyone," the NTF-ELCAC said. (PNA)