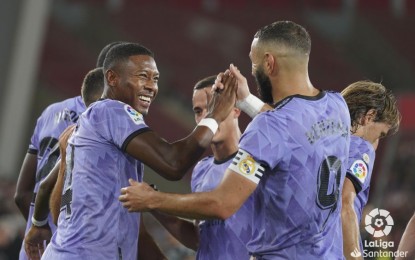 MANILA – Defending champion Real Madrid shares the top of the LaLiga Santander standings with Real Betis at nine points each, both winners in their first three matches.
They will clash at 10:15 p.m. Saturday (Philippine time).
Real Madrid made some impressive summer signings – Aurélien Tchouameni and Antonio Rüdiger – to bolster its defense in the Spanish football league.
David Alaba, born to a Nigerian father and Filipino mother in Vienna, Austria, was instrumental in Real Madrid's first victory this season, with his free kick in the 75th minute earning them a 2-1 comeback victory against Almería on August 15.
"I'm very happy to win this game. That's the only important thing, that's why we are here, to be successful at the end of the day. Ahead of the free kick, I felt good and the team gave me the confidence to take it," the 30-year-old Alaba said.
Real Madrid lured Alaba from Bayern Munich in the German league Bundesliga and signed him to a five-year contract in May last year.
Alaba's mother, Gina, was a nurse and a former beauty queen in the Philippines, while his father, George, is a Nigerian prince who went to Vienna to study Economics and was the first black guard soldier in the Austrian Army.
Alaba is the third player with Filipino roots to play for Real Madrid after Spanish Eduardo Teus, who was born in Manila in 1896, and France goalkeeper Alphonse Areola, whose parents are both from the Philippines, in the 2019-2020 season.
Paulino Alcantara, also born in 1896 in Concepcion, Iloilo to a Spanish military officer and an Ilongga mother, played for another Spanish club, Barcelona.
Bayern talent scout Werner Kern once described Alaba as an "exceptional talent with an excellent attitude" and "can go very far."
"Talent is one thing, but attitude and desire is another, and David has this undying desire to improve and develop," Kern said of Alaba when he first moved to Bayern.
LaLiga is the most followed domestic football league on social media, with more than 160 million fans all over the world enjoying contents in 20 languages across 17 different platforms. (PNA)