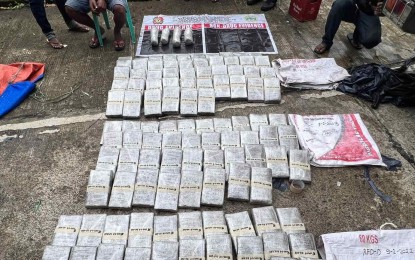 MANILA – Authorities seized PHP16.3 million worth of illegal drugs from 11 suspects in separate police operations in the provinces of Kalinga and Bulacan and Davao City, the Philippine National Police (PNP) reported on Sunday.
Salang-oy Alunday, 31, was intercepted at a checkpoint of the Tabuk City Police Station in Barangay Dupag on Friday while attempting to transport marijuana worth PHP15.6 million on board a white commuter van.
The contraband was packed into 126 bricks and four tubular packages weighing a total of 130,000 grams.
"The suspect may have been involved in large-scale trafficking of marijuana as evidenced by the huge quantity confiscated from him. The vigilance of our personnel was instrumental in suppressing the possible consumption of illegal drugs in case the marijuana bricks were successfully delivered," PNP chief Gen. Rodolfo Azurin Jr. said in a statement.
In Davao City, operatives of Talomo Police Station 3 and Philippine Drug Enforcement Agency (PDEA) Region 11 arrested Jezrel Adalwan, Antonio Mangin, Daniel Bustamante, Alan Leal, and Leo Alquizar also on Friday.
They yielded approximately 13 grams of suspected shabu valued at PHP88,400.
Meanwhile, the police and PDEA raided a drug den in Sta. Maria, Bulacan on Saturday and nabbed Jumar Nicariel Uligan, Grace Sta. Cruz, Nicole Figueroa, Arnold Viola, and Patrick Sta. Cruz with about 100 grams of suspected shabu which were valued at PHP680,000.
"Filing of cases are also underway to make sure those involved in this illegal business will face the consequences of their actions," said Azurin "We also strengthen our coordination with the church and community through our Kasimbayanan (Kapulisan, Simbahan, at Pamayanan or police, church, and the community) program to better mobilize the general public in promoting peace." (PNA)