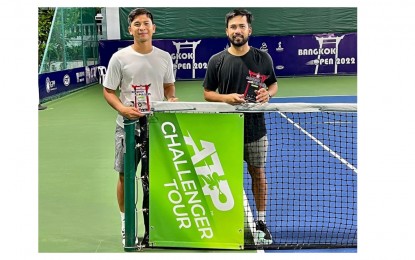 MANILA – Filipino Francis Casey Alcantara and Indonesian Christopher Rungkat settled for a runner-up finish in the men's doubles of the Bangkok Open 2 in Nonthaburi, Thailand on Sunday.
They lost to third seeds Benjamin Lock of Zimbabwe and Yuta Shimizu of Japan, 1-6, 3-6, in the final of the ATP Tour Challenger event.
Alcantara and Rungkat defeated Anirudh Chandrasekar and Vishnu Vardhan of India, 2-6, 6-4, 11-9, to reach the championship round, while the 6-foot-6 Lock and Shimizu advanced after beating Yunseong Chung of South Korea and Beibit Zhukayev of Kazakhstan, 7-6 (4), 6-3.
The Filipino-Indonesian pair's other victories were over Sergey Fomin and Denis Istomin of Uzbekistan, 7-6 (8), 6-2, and second seeds Ray Ho of Chinese Taipei and Grigoriy Lomakin of Kazakhstan, 7-5, 4-6, 10-5.
Lock and Shimizu, on the other hand, outplayed Pruchya Isaro and Thantub Suksumrarn of Thailand, 7-6 (1), 6-2, in the round-of-16 before hacking out a 3-6, 6-1, 10-2 win over Toshihide Matsui and Kaito Uesugi of Japan in the quarterfinal round.
"I am happy to be back in the winners circle. Hopefully, we can keep it up and do better this week," said the 30-year-old Filipino. The third leg begins on Monday.
Both Alcantara and Rungkat are medal winners at the 2021 Vietnam Southeast Asian Games (SEA Games). Alcantara won the men's doubles silver with Jeson Patrombon while Rungkat bagged the mixed doubles gold with Aldila Sutjiadi.
Last June, Alcantara teamed up with SEA Games singles gold medalist Nam Hoang Ly of Vietnam to win the Hai Dang Cup Week 2 title in Tay Ninh City, Vietnam.
The unseeded Filipino-Vietnamese duo conquered Ji Hoon Son and Ulsung Park of South Korea, 6-3, 6-1.
In May, Alcantara bagged the doubles plum with Colin Sinclair of Northern Mariana Island in an ITF World Tennis Tour event in Cairo, Egypt.
Born and raised in Cagayan de Oro City, Alcantara won the SEA Games doubles title with Patrombon in 2019.
Alcantara is currently the world's No. 445 player in the men's doubles category. He reached a career-high ranking of 257 in December 2018. (PNA)