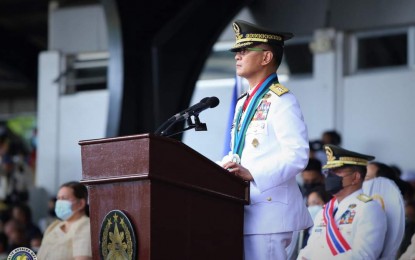 MANILA – Armed Forces of the Philippines (AFP) chief-of-staff Lt. Gen. Bartolome Vicente Bacarro on Monday said they are still waiting for the final version of the implementing rules and regulations (IRR) of Republic Act (RA) 11709 before coming up with a list of possible successors for two ranking military officials who are set to retire this week.
"Wala pa, actually because of yung hindi pa final yung IRR, kasi yung dalawang yun na position key positions yun, so ginagawa pa yung IRR and once magawa yung IRR magde-deliberate kami based on the IRR (There is still none yet because the IRR is not yet final, and those two positions are key positions. So the IRR is still being crafted and once the IRR is done and finalized, we will deliberate based on the IRR)," he added in an interview with reporters.
RA 11709, signed by former president Rodrigo Duterte in April, sets a fixed three-year tour of duty for the AFP chief of staff, vice chief of staff, deputy chief of staff, major service commanders (Army, Air Force, and Navy), unified command commanders, and inspector general "unless sooner terminated by the President.
Bacarro was referring to AFP vice chief-of-staff Lt. Gen. Erickson V. Gloria and Navy flag-officer-in-command Vice Adm. Adeluis Bordado who are both scheduled to retire on Sept. 9. The two officials are both members of the Philippine Military Academy Class of 1988.
Bacarro also said they are still to recommend any replacements as they still do not have a basis in making recommendations.
"Baka mamaya mag-deliberate ang BOG (Board of Generals) tapos yung sa paglabas ng IRR hindi pasok dun yung ni-recommend namin, so ang magiging basis namin is the IRR (The BOG might deliberate and then the IRR comes out only to find that those we recommended are not qualified, the basis of our recommendation will be the IRR)," he added.
Under the new law, the President may extend the AFP chief-of-staff's tour of duty in times of war or other national emergency declared by Congress.
The law also gives the Philippine Military Academy superintendent a tour of duty of four years, "unless sooner terminated by higher authority."
Meanwhile, the law also provides for the compulsory retirement of military personnel at 56 or 30 years' satisfactory active duty, whichever is later -- for those in the grades of second lieutenant/ensign (O-1) to colonel/captain (O-6). For those in the grades of brigadier general/commodore (O-7) to lieutenant general/vice admiral (O-9), the retirement age will be 59 or the maximum tenure-in-grade, whichever comes earlier.
Officers or enlisted personnel may avail of optional retirement upon accumulation of at least 20 years of satisfactory active duty.
The law also provides that officers and enlisted personnel shall be retired one rank higher from the last rank held, provided that retirement benefits shall be based on the permanent grade last held, though this will not apply to those still in active duty prior to the effectivity of the law; and provided that the said retirees will form part of the Reserve Force.
RA 11709 also limits the number of general officers to 0.01 percent of the AFP's total strength and will reduce the number of its general officers from the present 196 to 153. (PNA)