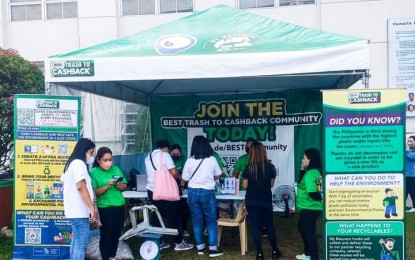 BACOLOD CITY – The city government here and its garbage collection contractor IPM-Construction and Development Corp. (IPM-CDC) launched on Monday the "Trash to Cashback" program that provides incentives for recyclable items brought to the community drop-off centers.
Mayor Alfredo Abelardo Benitez said the program is one way to achieve effective zero waste management, which is one of his administration's priority programs.
"If your trash can be exchanged for cash, would you still throw it away? We are thinking that if the trash has value and we can get something out of it, you would not want to throw it away anymore," Benitez said in his talk before the city employees during the flag-raising ceremony at the Bacolod Government Center grounds.
He acknowledged that waste segregation at the source has been very difficult to do despite years of campaigns conducted by the government and environmental groups.
"I've been hearing about segregation for several years now. All the local government units, the national government, and the non-government organizations say we need to segregate, but it is very difficult to do. It's hard to discipline people to segregate at source," he added.
Through the program, residents of Bacolod are encouraged to properly segregate recyclables at the source and exchange these at My Basurero Eco-community (MBE-C) Centers.
Lester Mateo, IPM-CDC representative, said they aim to educate every Bacolodnon in the barangays, communities, and private establishments on proper segregation of waste at source.
"All recyclable items will be incentivized. We will provide you with environmental points (EP) for every kilogram. The MBE-C Centers accept plastics, papers, and metals," he added.
To earn a cashback, an individual must create an account at bxtra.com.ph of bXTRA Philippines, the official cashback partner of the Trash to Cashback Program, using one valid email address, or scan the QR (quick response) code at the IPM-CDC booth, where the registered user can claim his or her cashback card.
Through this account, the user will receive EP, which is equivalent to cashback that can be used to redeem grocery items, food, drinks, and other items. (PNA)