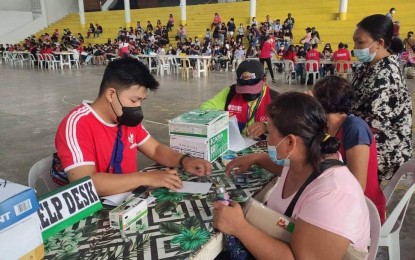 ILOILO CITY – A total of PHP76.561 million in cash assistance has been released by the Department of Social Welfare and Development (DSWD) to 27,280 students-in-crisis in Western Visayas.
Western Visayas has been allocated PHP91 million fund for the provision of assistance but May Rago-Castillo, DSWD information officer, said they are now exploring to request for additional funding from their central office.
Of the PHP76.561 million, some PHP31 million benefitting 11,248 students were released during the third payout that was conducted on Sept. 3.
The total fund for the payout that was conducted on Aug. 20, Aug. 27 and Sept. 3 has served 6, 277 elementary, 5, 106 high school, 3 516 senior high school, and 12,381 college students.
Castillo said that during the next payout on Sept. 10, they will be prioritizing applicants from geographically isolated and disadvantaged (GIDA) who were not entertained in the last three payout schedules.
"GIDA areas will be given priority in the next pay-out, Sept. 10. We will make it easier for them to get the assistance," she said in an interview.
However, she emphasized that they will continue to observe the no walk-in policy to make sure that the activity remains smooth and organized.
She added that they are also finalizing how to cater to applicants with no access to internet connection other than providing a drop-box at the payout site where they can put their application.
"We are still finalizing it. For now, it's strictly no walk-in," she said.
The educational assistance was intended for students in crisis to include breadwinners; working students; children of unemployed parents, solo parents, overseas Filipino workers in distress, and with human immunodeficiency virus (HIV); orphaned, abandoned or staying with their relatives; abused or displaced children; and victims of human-induced or natural calamities
The department has earlier set the distribution on Aug. 20 and 27 and Sept. 3, 10, 17, and 24.
Qualified beneficiaries enrolled in elementary, secondary, senior high school and college levels will receive assistance worth PHP1,000, PHP2,000, PHP3,000 and PHP4,000, respectively. (PNA)