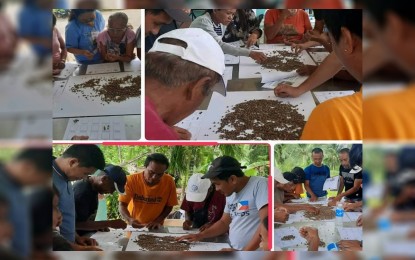 DUMAGUETE CITY – Coffee farmers in Negros Oriental are starting to recover from the effects of the Covid-19 pandemic with a series of training provided by the Department of Trade and Industry (DTI) in the province, an official said on Monday.
Maribel Sumanoy, focal person for the coffee cluster of DTI-Negros Oriental and DTI Region 7 (Central Visayas), told the Philippine News Agency that this year, they resumed the Coffee 101 and 102 training for the different coffee farmers' associations and cooperatives across the province.
"These farmers are being trained on the harvesting, sorting, understanding the grading systems of coffee," Sumanoy said.
At the same time, they receive assistance from the DTI in terms of packaging, marketing, and connecting them to the proper markets, she added.
"The Philippines is the number one importer in the world of soluble coffee, and we have to ensure that our local farmers can compete with other coffee producers in the country," the DTI official said.
The latest training was held on Sept. 2 on Coffee 102: Defect Identification and Green Grading for the coffee farmers in Dawis, Bayawan City.
Two other lectures on Coffee 101: Right Coffee Harvesting, Sorting, and Understanding the Grading System for Nagpantao Farmers Association and for Bolocboloc Farmers Association, both in Dauin town, were held last month.
Sumanoy said there are 30 coffee farmers' associations and cooperatives in Negros Oriental.
Robusta is the more popular and dominant coffee variety in the province, although some farmers also cultivate Arabica.
Local farmers sell their coffee in different forms, such as "green beans" or unroasted, roasted, and in powder or soluble forms.
Sumanoy said there is a growing market for the coffee industry here and with the aid of the Department of Agriculture, Department of Environment and Natural Resources, and other agencies, the DTI is looking at ensuring the successful revival of the micro, small, and medium enterprises (MSMEs) engaged in the coffee business. (PNA)