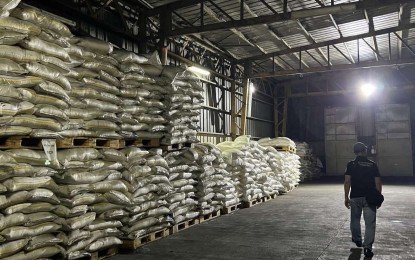 MANILA – The Bureau of Customs (BOC) on Tuesday said there will be more inspections to be conducted in coordination with other agencies to uncover allegedly hoarded stocks of sugar.
In a statement, Commissioner Yogi Filemon Ruiz said these inspections aim to send a clear message to groups and businesses that the government is serious about going after hoarders.
"We aren't stopping anytime soon, and working together with different government agencies -- from the police to the military -- showed what we can do when we pour all our resources and energy into doing what we are mandated to do and what the President had asked from us," he added.
The continuous inspection of warehouses believed to be storing sugar came following the unauthorized issuance of Sugar Order No. 4, which was earlier rejected by President Ferdinand Marcos Jr., who concurrently serves as Agriculture Secretary and chairperson of the Sugar Regulatory Administration (SRA).
The order would have allowed the importation of 300,000 metric tons of sugar.
At the same time, the bureau is set to start on Tuesday the inventory of the goods, including local and imported sugar worth PHP1.8 billion, that were found inside a warehouse in Nasugbu, Batangas after conducting an inspection on Sept. 4.
The inventory will be led by the assigned Customs examiners and will be witnessed by Customs Intelligence and Investigation Service (CIIS), Enforcement and Security Service, and representatives of the warehouse.
The team, composed of (CIIS) at the Manila International Container Port, that inspected the storage found an estimated 181,299 sacks of imported MITR PHOL brand pure refined sugar from Thailand, as well as some 197,590 sacks of the local Don Pedro white sugar. Each sack contains 50 kilograms of sugar.
Armed with a Letter of Authority (LOA) and Mission Order (MO) issued by Ruiz, the team arrived at Central Asucarera Don Pedro in Barangay Lumbangan in Nasugbu, Batangas where they found imported goods, as well as local and imported sugar.
"We consider this a huge breakthrough in our ongoing campaign against sugar hoarding. This may be one of our biggest operations to date since we started inspecting sugar storage facilities," Ruiz said. (PNA)