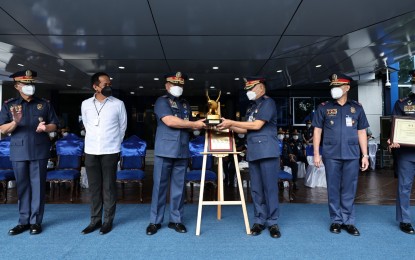 MANILA – The Directorate for Investigation and Detective Management (DIDM) of the Philippine National Police (PNP) has attained the "institutionalized" status after a painstaking series of evaluations linked to the Performance Governance System (PGS).
"This PNP Unit Certification through Performance Governance System (PGS) is a validation of the effective implementation and roadmap alignment of every PNP unit's strategies, initiatives, and best practices through regular unit scorecard assessment in collaboration with our esteemed external stakeholders and strategic partners from different sectors headed by DIDM's Advisory Group," said PNP officer-in-charge and deputy chief for administration Lt. Gen. Jose Chiquito Malayo, who administered the conferment ceremony on Monday in Camp Crame, Quezon City.
The "institutionalized" status is the highest rank in the PGS -- a performance management and measurement tool that aims to translate organizational goals into breakthrough results guided by a set of performance indicators and matrices, which was adopted by the Civil Service Commission in 2010.
The DIDM is the first among 10 PNP Directorial Staff Offices to be conferred the highest PGS status.
During the rites, the DIDM also received a certificate and a Golden Eagle award for garnering an overall rating of 97.05 percent during the institutionalization evaluation process.
"Let these resounding achievements of our PNP units and personnel serve as the core of our "MKK=K" or the "Malasakit, Kaayusan at Kapayapaan tungo sa Kaunlaran" as our peace and security framework way forward transforming the PNP into a stronger and responsive police organization," he added.
Malayo also noted that this milestone is the result of the diligent efforts of all the people, units and stakeholders involved in the entire evaluation process -- from the initiation, compliance and proficiency stages until the institutionalization stage of the PGS.
"Being conferred as "Institutionalized" is not the end of DIDM's journey to be a highly capable and effective investigative and detective management office. Rather, it is the beginning of other more challenging tasks that involve sustainability of the unit's programs to better serve the country and people," DIDM director Maj. Gen. Omega Jireh Fidel said in his acceptance message.
The DIDM earlier received the Silver Eagle Award during the conferment and awarding ceremony on its "initiated" and "compliant" status on Feb. 14, 2014 and Sept. 28, 2015, respectively.
It also received the Golden Eagle Award during the conferment of the "proficient" status on Feb. 13, 2017. (PNA)