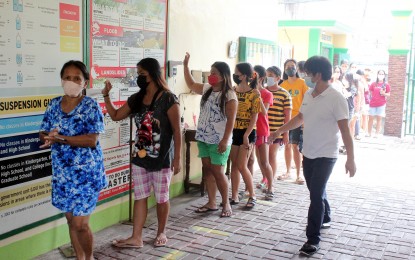 MANILA – The positivity rate, the number of people testing for Covid-19, in the National Capital Region (NCR) has slightly decreased to 12.1 percent as of Sept. 3, the OCTA Research Group said Tuesday.
In a tweet, OCTA Research Group fellow Dr. Guido David noted that the figure is a 0.8 percent decrease from NCR's 12.9 percent positivity rate as of Aug. 27.
"Very high positivity rate still observed in Albay, Camarines Sur, Nueva Ecija, Tarlac," he said.
The positivity rate in these provinces are over 20 percent -- Albay, 32.2 percent; Camarines Sur, 33.5 percent; Nueva Ecija, 31.8 percent; and Tarlac, 22.5 percent.
The positivity rates in Bataan, Batangas and Pangasinan have improved to less than 10 percent.
As of Sept. 3, Bataan's positivity rate is 6.6 percent; Batangas, 9.2 percent; and Pangasinan, 8.9 percent. (PNA)