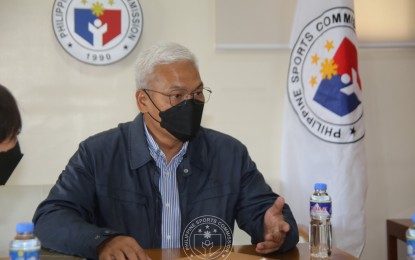 MANILA – Philippine Sports Commission (PSC) chairman Noli Eala described his meeting with the top officials of the Philippine Olympic Committee (POC) as a "social call".
The POC hosted a Monday night dinner with Eala in what would be their first meeting together since the former Samahang Basketbol ng Pilipinas executive director was named the new PSC chief last week.
"It was really a social call," Eala said in his first appearance in the Philippine Sportswriters Association (PSA) Forum as PSC chairman on Tuesday.
Among those present for the POC board were president Bambol Tolentino who, according to Eala, "was very courteous and gracious in hosting a dinner for me," first vice president Al Panlilio, second vice president Richard Gomez, treasurer Cynthia Carrion-Norton, deputy secretary general Bones Floro, auditor Chito Loyzaga, board members Dave Carter, George Canlas, and Pearl Managuelod, and chief legal counsel Wharton Chan.
"It was a very good way to meet the board of the POC," Eala said.
Despite the dinner being "not supposed to be a formal working meeting," Eala said the seriousness remained during the dinner.
"We discussed, I think, basically some of the things that had transpired in the past. There was also an opportunity for them to give me some of the feedback that they have and their concerns in terms of the relationship between the POC and the PSC. I was there to listen. I was not there to make any demand or request," Eala said.
He said the meeting was a "good start" to maintain the cooperation among the major stakeholders in Philippine sports.
"I think it was a good start. All is well for Philippine sports. It shows the united front. This is what we need. It shows the cooperation among the major stakeholders, which are the POC and the PSC, and I feel very confident that my relationship particularly with President Tolentino will help us steer the agenda of Philippine sports in the right direction, so I'm very happy with the way it turned out last night," he added. (PNA)