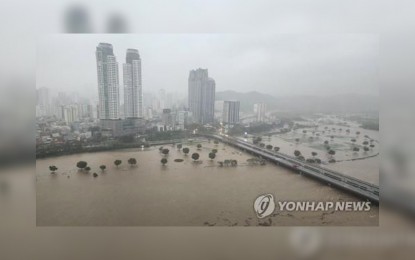 MANILA – No Filipino has been reported affected by Super Typhoon Hinnamnor that left two dead and around 10 missing in South Korea, the Department of Foreign Affairs (DFA) said Tuesday.
In a text message, DFA spokesperson, Ma. Teresita Daza, said the Philippine Embassy (in South Korea) issued an advisory to Filipino nationals to observe caution and to closely monitor developments.
"The Embassy has likewise been in touch with Filipino Community leaders especially in the most affected areas and to date has not received any reports of Filipinos affected by the Typhoon," Daza said.
There are a total of 60,162 Filipinos in South Korea, based on the latest DFA data.
Typhoon Hinnamnor, the strongest yet to hit South Korea this year, made landfall in the southeastern region at around 4:50 a.m. on Tuesday and exited the country more than two hours later.
The Korean government continues to assess the damage brought about by the typhoon, particularly in the coastal areas of Jeju Island, Busan, and Geoje Island.
Seoul-based Yonhap News Agency reported that the typhoon left two dead and 10 missing. Over 2,900 people in most affected areas were also evacuated while more than 66,000 homes suffered power outages.
With a central pressure of 955 hectopascal and maximum wind speed of 40 kilometers per second around 6 am, Yonhap said Hinnamnor's intensity was close to Maemi in 2003, one of the most devastating typhoons to hit the country.
In the capital, Philippine Ambassador to South Korea Maria Theresa Dizon-De Vega said "there is no more rain and Seoul is relatively dry".
Last August, torrential rains also triggered massive flooding in Seoul and surrounding areas, leaving several houses and subway stations inundated. At least 16 people were reported dead and missing due to the downpours. (PNA)