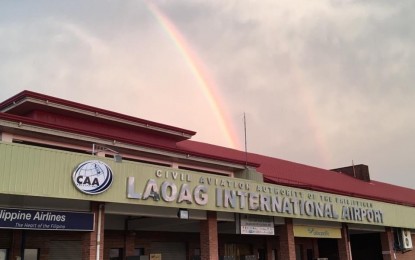 LAOAG CITY – The Laoag International Airport (LIA) is seeking the help of local government units located near its fly zone to prohibit the raising and flying of pigeons which may threaten public safety when they accidentally collide with airplanes.
According to Civil Aviation Area Manager Ronald V. Estabillo of the LIA on Tuesday, "pigeons are one of the greatest threats for airplanes" which needs to be addressed as the Laoag airport continues to upgrade its facilities to allow bigger aircraft to land here.
"Incidents of bird strikes have been recorded previously and we want to prevent such incidents again in the future for the safety of passengers and operators during air travel," he said.
Estabillo said several airports have tried using equipment to scare away pigeons with loudspeakers that broadcast sounds of owls and other predators but have had little success.
In view of this, a wildlife hazard management committee composed of representatives from the Civil Aviation Authority of the Philippines (CAAP), Department of Environment and Natural Resources, Philippine Airlines Express, Aviationlink Asia, city government of Laoag, and the municipalities of Bacarra, San Nicolas and Paoay will be formed to take necessary measures in the implementation of the Wildlife Hazard Management Plan for the airport.
CAAP Advisory Circular 139-05A provides guidelines for the establishment of wildlife hazard management at airports and aerodrome operators founding the development of the Wildlife Hazard Management Plan.
The group is set to meet on Thursday to tackle the issue and formulate specific strategies and bird strike control measures.
One of the proposed measures is for the concerned local government units near the airport to pass an ordinance prohibiting the raising and flying of bird species in the immediate vicinity of the airport to prevent collision between aircraft and birds during landing.
Local government units are likewise urged to see to it there is proper management of existing dumpsites and to prohibit the opening of the new sanitary landfill within the 13-kilometer radius of the airport. (PNA)