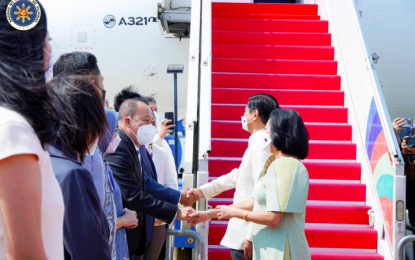 MANILA – President Ferdinand "Bongbong" Marcos Jr.'s inaugural state visits to Indonesia and Singapore will reap significant benefits for the Philippines as it can facilitate cooperation and improve bilateral economic relations among the countries, a lawmaker said.
In a statement on Monday, House Senior Deputy Minority Leader and Northern Samar Rep. Paul Daza said the two countries are "ideal destinations" for Marcos' first state visits considering their strategic positions in terms of geography, trade and investment, security and defense cooperation, cultural exchanges, and people-to-people relations.
"Given our proximity to both of these rising regional powers and emerging global players, I am encouraged that these countries were our president's first foreign trips," Daza said.
Daza noted that Indonesia has a growing economy, a young and dynamic population, and a diverse, democratic and social media-savvy culture, adding that the country's annual gross domestic product (GDP) growth is projected within the 5.2 percent to 5.5 percent range in the coming years.
He said Singapore is also a "favorable partner" having established itself as a solid financial and regional trading powerhouse.
"Apart from having the world's busiest port, its developed infrastructure, political stability, open business policies, and skilled workforce have made it a top location for investments in the Asia Pacific region," he said.
He said the Philippines could also learn from Singapore's Universal Healthcare (UHC) system, which is notable for its effective use of public and private sector partnerships, thus allowing comprehensive financing for the healthcare system.
House Ways and Means Chair Joey Salceda, meanwhile, asked President Marcos to have the Philippines and other partners in Southeast Asia reiterate their common commitment to a framework of mutual assistance on resource extraction and freedom of navigation in the West Philippine Sea and the broader South China Sea.
"These two will be his first state visits. So, they will set the tone," Salceda said. "In this age of rising tensions among the world's top powers, common understand among middle powers like us, the Indonesians, and the Singaporeans would be reassuring."
Salceda said keeping the impression of Association of Southeast Asian Nations (Asean) solidarity by reiterating common interest in freedom of navigation and shared benefits of the South China Sea would "keep China from doing anything rash or careless."
"There is a delicate balance in the South China Sea. Asean solidarity is what keeps China and any other interested power for that matter from undertaking any act of blatant and dramatic aggression in the disputed waters. If they do that, we will congeal into one coalition, and a call for outside help from us would be justified too easily."
Marcos said the Philippines may "explore" the strategy used in the signing of the 2014 sea border agreement with Indonesia to settle its long-standing maritime dispute with China in the WPS.
The agreement, which was first inked in 2014 after more than two decades of negotiations, sets the exclusive economic zone (EEZ) borders between the Philippines and Indonesia in the Mindanao and Celebes seas.
"Well, I think it is worthwhile to explore at the very least because it is one instance that this kind of discussion, we came to a conclusion and we came to a resolution. So, we should try it," Marcos told reporters in a press briefing at the Fairmont Hotel, Jakarta.
Marcos' first stop is Indonesia, from Sept. 4 to 6, upon the invitation of Indonesian President Joko Widodo.
Marcos, together with the Philippine delegation, already met with Indonesian President Joko Widodo, and other Indonesian officials in a bilateral meeting at the Bogor Presidential Palace in West Java.
It was during the meeting where the two governments signed four pacts on defense cooperation, cultural cooperation, creative economy, and a plan of action for bilateral cooperation.
Marcos said he will also be visiting Singapore from Sept. 6 to 7, upon the invitation of Singaporean President Halimah Yacob.
He said he will be meeting both Yacob and Prime Minister Lee Hsien Loong to renew their shared commitment "to deepen bilateral relations, explore options for advancing our economic ties, and discuss regional and global issues."
Froilan Calilung, political science professor at the University of Santo Tomas, said the economic, socio-cultural, political, and even military talks among the countries would be beneficial for the Philippines.
"I'm very glad that ang naging unang (the first) stop ni (of) Pangulong Marcos actually ay mga (are our neighboring countries) kalapit-bansa natin, Asean, particularly Indonesia and Singapore. Because I think it's very important that we maintain close relationships with them," Calilung said in the televised Laging Handa public briefing.
Calilung said the Philippines is ready to cater to foreign investments, especially those that Marcos would secure from his back-to-back state visits.
"I think the Philippines is ready for this – we have already put the infrastructures in place, we have already teamed up with some laws like the Public Utilities Act which makes the country even more enticing toward investors. So, I hope that it will materialize very, very soon para maramdaman natin ano iyong economic gains somehow nitong mga proyekto na 'to (so that we can feel the economic gains somehow of these projects)," he said.
In the field of security and military, Calilung said the Philippines could strengthen its bilateral relationship with Indonesia on matters concerning counter-terrorism.
"How we can strengthen interoperability ng ating mga (of our) troops; how could we actually have what we call military skills transfer and education. These are actually very, very relevant especially because in this area, one of the important geopolitical concerns natin is iyon nga, iyong influx ng (is the influx of) terrorism and transnational crimes, not to mention that there is the problem on the West Philippine Sea. At alam naman natin (We know) that Indonesia actually took the lead, you know, in coming up with a formidable stance against China as compared to other countries. So I think we could learn a thing or two from Indonesia in that regard," he said. (PNA)