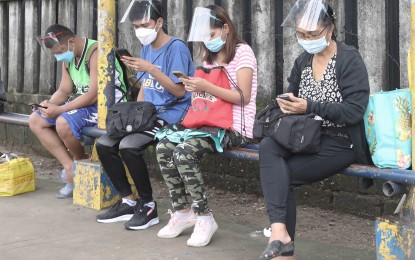 MANILA – Local telecommunications companies (telco) is clamping down the continued proliferation of scam text messages through their partnership with the national government.
In a statement on Tuesday, Globe Telecom Inc. (Globe) chief information security officer Anton Bonifacio said the company is "working closely" with the National Telecommunications Commission (NTC) and the National Privacy Commission (NPC) to crack down against cybercriminals and protect data privacy.
"At a time of aggressive cybercriminal activity amid growing digitalization, Globe asserts that the public, government, and industry players, including telcos, are all victims of these illegal acts. It is, thus, a shared fight among all of us to beat our common enemy, which is cybercrime," Bonifacio said.
To date, he said roughly PHP1.1 billion in capital expenditures have been spent by Globe to boost its capabilities in detecting and blocking scam and spam messages of both international and local origin.
"Globe also maintains a 24/7 security operations center, with over 100 people working tirelessly to detect attacks, breaches, and spam and text messages," he said.
From January to July, Globe blocked a total of 784 million scam and spam messages, deactivated 14,058 scam-linked SIM cards, and blacklisted 8,973 SIM cards—in addition to 610 blocked domains or URLs.
On the other hand, PLDT – Smart chief information security officer Angel Redoble assured its users that there is no evidence to suggest a breach in its network, with spam and scam messages received by their users mostly sent through individual SIM cards.
"Upon scrutiny of these spam messages, we have observed that the format of the names mimics the naming conventions used in popular digital services," Redoble said.
Leah Jimenez, PLDT-Smart's chief data privacy officer, said the companies continue to work with the NPC, the NTC, and law enforcement agencies to help track down cybercriminals responsible for these illegal activities.
"At this early stage, and pending completion of investigations, we believe it prudent to hold off on any conclusion. Our focus should be on identifying the source of these scam messages," Jimenez said.
In 2021, PLDT-Smart has invested nearly PHP3 billion to fortify its cybersecurity infrastructure to safeguard against emerging threats and vulnerabilities in telecommunications and cyberspace.
Earlier, the NTC ordered telcos to send warnings to the public against scam text messages that contain the names of their receivers.
Text scams have been on the rise since the height of the Covid-19 pandemic, with the latest fraudulent messages containing the names of their receivers and offering fake jobs, promises of a monetary prize, or similar money scams that lull users into giving sensitive information.
Such information can then be used by cybercriminals to log in to a person's bank account, digital wallet, or social media account -- resulting in both monetary and data privacy losses.
PNP backs Senate probe on text scams
Meanwhile, the Philippine National Police (PNP) said it fully supports the proposed investigation of the Senate Committee on Public Services on the continued proliferation of text scam messages.
Lt. Gen. Jose Chiquito Malayo, PNP deputy chief for administration, said the police force will contribute and cooperate in the investigation as it did in the recent text scam cases handled by its Anti-Cybercrime Group.
Malayo said the PNP also supports the passage of a measure requiring the registration of SIM cards which is expected to assist law enforcers in identifying culprits or scammers who use their communication devices to victimize unsuspecting individuals.
However, security measures should be in place to safeguard prepaid subscribers' data which are similar to security features already applied to postpaid subscribers. (with Lloyd Caliwan/PNA)