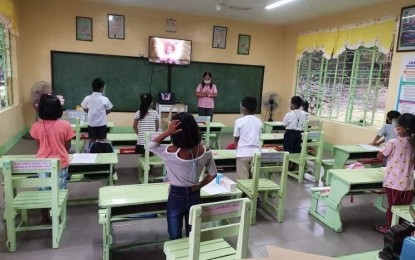 MALASIQUI, Pangasinan — The Department of Education (DepEd) Ilocos regional office has recorded 1.256 million enrollees for this school year based on its quick count as of September 5.
In a forum on Tuesday, Joey Pimentel, statistician at the DepEd Ilocos Region, said of the total number, 1,129,203 were enrolled in public schools; 121,953 in private schools; and 4,949 in state universities and colleges or local universities and colleges.
Pimentel said 652,046 are enrolled in kindergarten and elementary; 400,027 are in junior high school; and 204,032 are in senior high school.
"The number will still increase as the enrollment is still ongoing as long as the learner could still comply with the 80 percent of the total 203 school days," he said.
He added the number of enrollees is at 95.96 percent.
DepEd medical officer Dr. Romarie Joy Castillo said of the total number of learners enrolled, 40 percent have been fully vaccinated against coronavirus disease 2019 (Covid-19).
She said there are 514,975 fully immunized learners and 544,194 who got their first dose.
However, 19 percent have not been inoculated, she added.
The Department of Health Center for Health Development in the Ilocos Region, through the PinasLakas campaign, schedules vaccination in schools to boost the immunization rate among learners.
Meanwhile, Darius Nieto, project development officer of DepEd Ilocos, said they are still assessing and monitoring the damage brought by the typhoons in the schools while the repair and rehabilitation of classrooms affected by the recent earthquake are ongoing.
He said most of affected schools are in Vigan City, Candon City, and Ilocos Sur division.
"Some of the congressmen have already allocated funds for the classrooms with major damages," he added. (PNA)