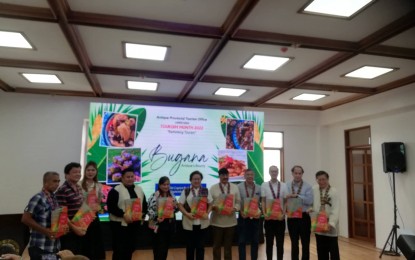 SAN JOSE DE BUENAVISTA – Antique is the pioneer among the six provinces in Western Visayas to formally launch its recipe book containing heirloom menus during the opening of its tourism month.
Antique Governor Rhodora Cadiao during the launch of the "Flavors of Antique" recipe book on Tuesday in this capital town said the province dreams of receiving the tourists' spillover from Boracay island and also becoming a preferred destination.
"We hope that sooner tourists will prefer to take their flight from Metro Manila directly to Antique and then to Boracay island," Cadiao said.
She said the first few days spent in the various tourism destinations in Antique before finally heading to Boracay island could spur the economy of residents including the micro, small and medium entrepreneurs (MSMEs).
Tourists can see the beautiful natural destinations in Antique and taste its heirloom recipes, she added.
Antique Provincial Tourism Officer Juan Carlos Perlas was elated with the recipe book that could be enjoyed even by future generations.
"We are confident that Antique's heirloom recipes will not be easily forgotten, but that it will be preserved because it had been documented in the book," he said.
He thanked the people, including the restaurant owners, who willingly shared the ingredients and cooking procedures of their popular appetizers or salads, soups, main dishes, desserts, snacks, and drinks.
Among the recipes are the "Litsada nga Garangan" or pickled starfruit (carambola) that had been garnished with salt, chili peppers, calamansi, and vinegar, and made as an appetizer; and "Sopa de Estrellita", a mushroom soup with cream, butter, thickened with chicken stock.
The "Adoba Blanca" is a main dish heirloom recipe that dates back to 1923 consisting of pig's feet marinated in "tuba" or coconut wine overnight and cooked with pineapple. (PNA)