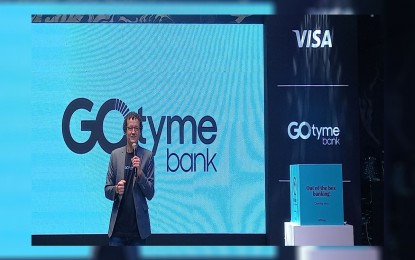 MANILA — An official of GoTyme Bank, one of the six digital banks allowed by the Bangko Sentral ng Pilipinas (BSP) to operate in the country, aims to have 10 million active customers in five years.
In an interview at the sidelines of the launch of the partnership between GoTyme Bank, Visa, and automated teller machine (ATM) and online banking channel network BancNet on Tuesday, GoTyme Bank chief executive officer Nathaniel Clarke said they are optimistic of achieving their target in five years given the large number of unbanked Filipinos.
"We don't think we're going to be the biggest bank by asset size, (and) by lending books. We're going to be the everyday bank for Filipinos," he said.
The digital bank will put up kiosks in every Robinsons supermarket nationwide, initially in the National Capital Region and major cities and then to other parts of the country.
Its officials said printing of the ATM, which will have the same identification (ID) number as the client's virtual card, will take around five minutes, thus they can accommodate a large volume of customers in a short period.
Clarke said they plan to officially launch the digital bank's kiosks by the mid-October this year.
The digital bank is a joint venture among multi-country digital banking group Tyme, and members of the Gokongwei Group – Robinsons Bank, Robinsons Land Corporation, and Robinsons Retail Holding Inc.
Gokongwei Group collectively holds 60 percent stake in the digital bank.
The bank received its certificate of authority from the BSP last July 29.
Digital banks are financial institutions that have no physical branches and operate end-to-end processes via electronic channels. (PNA)