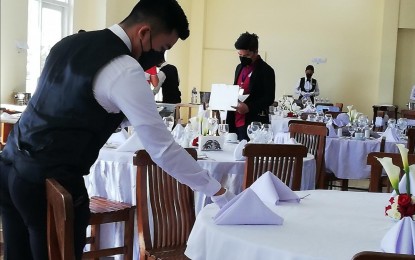 BAGUIO CITY – The Technical Education and Skills Development Authority (TESDA) in the Cordillera Administrative Region (CAR) will be preparing 22 student-scholars and local practitioners for the national skills training competition in December.
The scholars and the practitioners will be representing CAR after emerging as winners in the regional level of the competition held in the city from Aug. 31 to Sept. 2. Winners in the national competition, the venue for which has yet to be announced, will be representing the Philippines in the Association of Southeast Asian Nations (ASEAN) competition in Singapore.
"The competitors will start the mentoring and coaching from the experts. They will continue to practice and have a month of in-house training before the nationals which will be held sometime in December," said TESDA-Kalinga provincial director Victor Brioso on Tuesday.
In the 2021 national skills competition, four gold medalists were from the Cordillera who went on to represent the country in the ASEAN competition.
They were Jason Boguiles (prototype modeling), Ace Lloyd Fontanilla (plastering and drywall systems), Mike Anthony Culat (car painting), and Archie Buyotan (joinery).
Organized by TESDA, the competition is an avenue participated by industry stakeholders and scholars of the government's technical-vocational institution.
The competition involves different trade skills in the tourism industry, carpentry, masonry, industry technology, and other fields. It aims to inculcate among the students and industry workers the international standards in preparation for local and international employment.
This year's Cordillera competitors include: Eugene Espiritu (Additive manufacturing); Lea Camille Montenegro (Automotive Technology); Kathleen Jade Bitaga (Bakery); Joan Quitor (Beauty therapy); Jason Boguiles (Computer numerical control [CNC] milling); Julien Refugia (CNC turning); Allen Gacweng (cooking); Mark Paul Cabantac (electronics); Janiel Joshua Buena (electrical technology); Hannah Grace Tanas (hairdressing); Rimsha Mahmood (hotel reception); Gilmar Penaso (mechatronics); Daniel Orquiza (mechatronics); Frances Camille Lipi (mechanical engineering); Hannah Lea Dowen (prototype modeling); Shawn Richard Navalta (refrigeration and aircon servicing); Ruczel Ann Madrid (restaurant service); Kaycee Ann Baterina (web technology); Glen Ian Ngopangop (electrical technology); Lemuel Nick Empleo (Information Technology business solutions); Johncel Gumangan (graphic design); and Genrey Amtalao (network cabling).
TESDA-CAR OIC-Regional Director Jovencio Ferrer Jr., during the awarding ceremony for the regional competition, said the skills competition enhances the trainers and the young ones to broaden their knowledge and experience including in an actual scenario.
The national competition, set every December, is an opportunity for the competitors to show their talent, skills, and the experience they obtained from the training and work they do in the field.
"It is also an opportunity for industry leaders to see the competitors for possible placement and hiring in the profession," he said.
Baguio City councilor and Regional Technical Education Skills Development Committee (RTESDC) chairperson Betty Lourdes Tabanda, said the competitors must also have the heart to win in a competition.
"Prepare before you go to the competition but most importantly, have the heart to win," Tabanda said. (PNA)