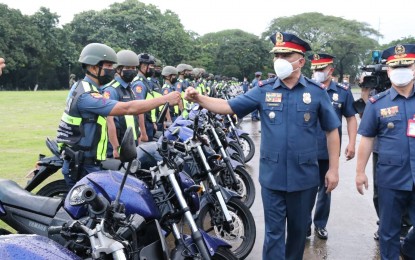 MANILA – A total of 72 motorcycle-riding police personnel will be deployed as part of the National Capital Region Police Office's (NCRPO) strategic plan to beef up security and protection of communities against criminals.
During Tuesday's send-off rites for the members of the Regional Mobile Force Battalion's Tactical Motorized Riders Unit (TMRU), NCRPO chief Brig. Gen. Jonnel Estomo said this is part of the aggressive and sustained police patrolling plan aimed at minimizing the occurrence of street crimes, maximizing the arrest of motorcycle-riding criminals, and heightening security measures for workers, laborers, and commuters at night.
"Kung kailan tulog ang mga tao, ang mga pulis ay gising upang kayo ay bantayan (When the people are asleep, the police are awake to safeguard them). This is the sacrifice that NCRPO offers especially during night time rendering services and protecting people," he said.
Estomo said the S.A.F.E (Seen, Appreciated, and Felt by the people through Extraordinary actions) NCRPO program is a holistic and comprehensive approach that needs the coordination of the community in order to prosper.
"Gearing towards the realization of our effort, we will establish a strong partnership with the community emphasizing the philosophy of community policing where the police and the community work together towards a healthy, crime-free, and harmonious community," he said.
Estomo added that the program maximizes all necessary police work to increase police presence, provide easier police accessibility and trigger faster police response in any eventualities.
"In this manner, they will be seen and felt by the community. However, the program aims for the police force to not only be recognized with invigorated patrol operations but also through the performance of other tasks extraordinarily and excellently. Having these three leads to the deterrence of crimes, acknowledgment, and appreciation of community to their presence," he stressed.
"This is also in consonance with the Peace and Security Framework of the chief PNP Gen. Rodolfo Azurin, Jr which is MKK=K. The first K which is KAAYUSAN denotes back to the basic police function of enforcing laws, ordinances and other existing orders for the safety and order in the communities," he added.
The NCRPO has five districts -- the Manila Police District (MPD), Quezon City Police District (QCPD), Northern Police District (NPD), Southern Police District (SPD), and Eastern Police District (EPD).
Each district will have an additional 24 tactical motorcycle riders within their areas of responsibility. (PNA)