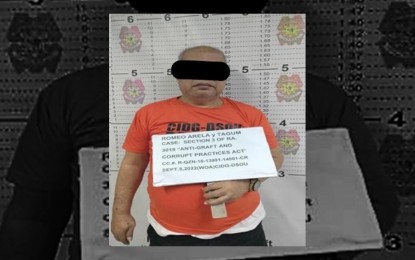 MANILA – Members of the Philippine National Police (PNP) have arrested a retired police officer implicated in a "ghost pension scam" in Rizal province.
In a statement Wednesday, PNP deputy chief for administration Lt. Gen. Jose Chiquito Malayo identified the suspect as retired Senior Police Officer 4 Romeo Arela, 65, who was arrested by members of the PNP Retirement and Benefits Administration Service (PRBS) in coordination with the personnel of Criminal Investigation and Detection Group (CIDG) in his residence in Barangay San Jose in Antipolo City on Monday afternoon.
Malayo said the suspect has a standing warrant of arrest dated Nov. 12, 2018, issued by the Quezon City Regional Trial Court Branch 95 for malversation of public funds and violation of the Anti-Graft and Corrupt Practices Act.
"Retired SPO4 Arela was criminally and administratively charged for defrauding the government of millions of pesos through the 'ghost pension scam' in the PNP," Malayo said.
Malayo said a fact-finding investigation also recommended the filing of another 11 counts of violation of Section 3 (e) of RA 3019 (Anti-Graft and Corrupt Practices Act) against the retired police officer before a Quezon City court.
The scam involves fake names being entered into the PNP's pension database and is allegedly perpetrated by unscrupulous individuals and groups.
The late former Interior Secretary Jesse Robredo earlier said the police force has lost over PHP1 billion to ghost pensioners in a span of five years from 2006 to 2011.
In 2020, the PNP under then chief Archie Gamboa ordered a crackdown on over 1,000 unqualified pensioners who are "fraudulently stealing" from its pension fund.
"We emphasize that this operation became successful through the cooperation and support of the community who helped us build the nation ensuring the safety of everyone through our Kasimbayan program. This can only be achieved if we actively participate in our quest to curb criminality," Malayo added. (PNA)