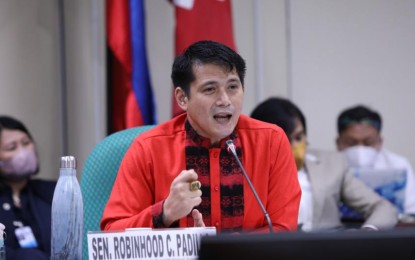 MANILA – Senator Robinhood "Robin" Padilla wants more cemeteries for Muslims and indigenous people (IPs) to ensure that proper burial in accordance with their customs and tradition will be observed.
Under Senate Bill 1273 or An Act Recognizing the Proper Burials of Muslim Filipinos, Indigenous People, and Other Denominations, Padilla said that many groups including Muslims have a hard time burying their deceased loved ones because of the lack of public cemeteries that will accommodate their customs and beliefs.
"The proposed measure seeks to recognize the proper burial of Muslim Filipinos, Indigenous Peoples, and other denominations, providing for appropriate burial grounds in public cemeteries, and for other purposes, in order to preserve the sanctity of their beliefs and culture honoring their dead," Padilla, a Muslim, said in his bill, noting the 1987 Constitution ensures the right of all Filipinos to express their beliefs and faiths without discrimination.
Because of such issues, he said many Muslims have had to send the remains of their dearly departed to their hometowns in Mindanao, which entails many costs and related problems for the families.
Muslim cemeteries are confined only in Manila, Taguig City, Norzagaray town in Bulacan province, and Montalban town in Rizal province.
In the case of Muslim Filipinos, he noted there are many customs to observe, including the immediate burial of the remains without cremation, autopsy, or delay.
"All of these burial ceremonies are traditionally valid in expressing our identities as Filipinos such that the existence of several Filipino burial ceremonies across the country amplifies the richness of our culture," he said.
Under the bill, the deceased may be buried in accordance with their traditions and beliefs in public cemeteries. The public cemeteries will determine the size of the burial grounds for Muslims, IPs, and other denominations.
If the portion is not sufficient, the local government unit (LGU) may acquire land for the purpose. A Filipino citizen may donate land for the purpose. The donor and LGU may enter into consultations on the size of the lots for the burial ground, with the LGUs assisting in securing licenses, permits, and other requirements.
A Public Cemetery Board shall be created in highly urbanized cities, independent component cities, and provinces.
At the House of Representatives, Basilan Rep. Mujiv Hataman introduced a measure that would require all localities with a considerable number of Muslim residents to set up cemeteries that would enable believers in the Islamic faith to observe their tradition of burying their dead within 24 hours.
A similar bill, HB 2587, authored by Lanao del Sur Representatives Zia Alonto Adiong and Yasser Alonto Balindong, has been referred to the House committee on Muslim affairs. (Leonel Abasola/PR)