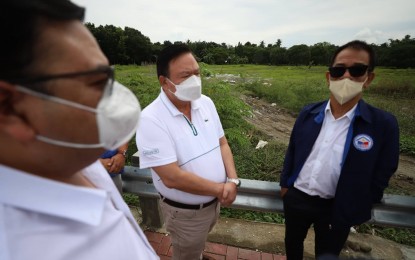 ILOILO CITY – The Department of Human Settlements and Urban Development (DHSUD) will be implementing the current administration's "Pambansang Pabahay Para sa Pilipino: Zero ISF Program for 2028" projected to benefit around 11,000 Ilonggo families with no permanent dwellings.
Iloilo City Urban Poor Affairs Office (ICUPAO) head Roy Firmeza, in an interview on Wednesday, said the local government is committed to joining the challenge of building six million houses nationwide in six years to address the housing backlog in the country with the DHSUD at the helm.
"Iloilo City has the readiness, has the resources. It is just an enhancement of the city's housing program. The mayor himself is so optimistic about the program," he said.
The local government through Mayor Jerry P. Treñas during the ceremonial signing of the memorandum of understanding (MOU) on Sept. 3, 2022 has initially committed 2.2 hectares of its 3-hectare Uswag Residential Complex in Barangay San Isidro, Jaro.
Firmeza said if one hectare of the city government's ready site can fit four buildings at 350 maximum units per building, then it can already accommodate 1,400 units.
Since the available lot is 2.2 hectares, then it is expected to accommodate eight to nine buildings with around 2,800 units at the minimum.
"We are also waiting for documents for the transfer of properties that were acquired by the city government. That would be additional resources that we can use for our commitment for the government's flagship program," Firmeza added.
Including the ongoing acquisition, the program is anticipated to benefit around 11,000 homeless Ilonggo families.
Currently, Iloilo City has around 12,300 informal settler families projected to balloon to 15,000 in 2028 taking into account the 4 percent increase per year.
Firmeza, however, said that the local government has other approaches to address the housing concern such as the provision of relocation sites, on-site development, and assistance to community-mortgage program, among others.
Meanwhile, the signed MOU still needs to be ratified by the Sangguniang Panlungsod.
Thereafter the city government and the DHSUD will discuss the specifics of the program before the signing of the Memorandum of Agreement.
In a press conference on Sept. 5, Mayor Treñas said the target groundbreaking for the project was set for this October and will be simultaneously implemented nationwide. (PNA)