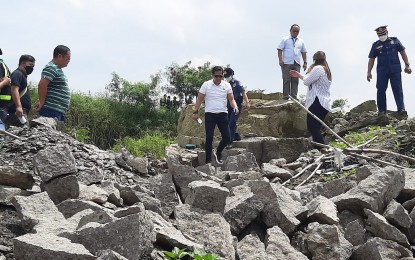 CITY OF MALOLOS, Bulacan – Five persons were arrested Tuesday following a surprise inspection of an illegal quarry operation site which has been closed due to a lack of operating permit in Barangay Camangyanan, Santa Maria, this province.
Gov. Daniel Fernando, together with the Bulacan Environment and Natural Resources Office (BENRO) chief Julius Victor Degala and Maj. June Tabigo, chief of the Criminal Investigation and Detection Group (CIDG)-Bulacan, led the site inspection of a five-hectare farmland in Sitio Alimasag.
Fernando said on Wednesday the illegal quarrying operation has been going on for several years before the discovery of the site by local residents of volcanic tuff known as "escombro" or "bulik," a high-grade kind of rock mineral commonly used for landscape gardening which costs PHP150-PHP600 per block.
He said the five persons, all of Sitio Alimasag, will be charged with the violation of Mineral Theft under Section 103 of Republic Act 7942 (Philippine Mining Act ), Section 71-A of the Provincial Ordinance C-005 or the Environmental Code of the Province of Bulacan, and the recent Executive Order No. 21 Series of 2022 which mandates temporary suspension of quarrying activities.
Fernando said the illegal miners, who were not identified, were using manual tools in extracting the minerals to lessen the noise during operations.
The governor said the team also discovered an exhausted quarry area filled with rainwater with a depth of more than 10 feet which may cause danger to the residents living within the vicinity.
He said they will coordinate with the municipality of Santa Maria regarding the said illegal quarrying activity.
"The inspection resulted in our continuous fight against illegal quarrying. According to BENRO, there are three or four illegal diggings in the area and one of this was left and had already water. So, what is happening is not right. We will make sure if the local government is aware of this and I think, there is a need for us to talk about this," Fernando said in Filipino in an interview.
He also asked the Bulakenyos, especially those who are in the mining industry, to follow the regulations and operate legally with permits.
"Many of our province mates are suffering and need help. It should not only be for self-interest and should be placed in the proper process and not in the illegal way. We should protect our nature because later on we will be charged with it. We will continue to fight illegal quarry because it is also for the welfare of our fellow Bulakenyos," Fernando added. (PNA)