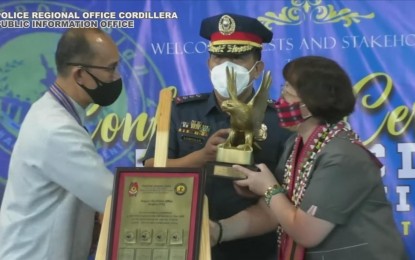 BAGUIO CITY – The Baguio City Police Office (BCPO) has bagged the Philippine National Police's (PNP) "Gold Eagle Award," the first city police to do so, in recognition of its achievements in institutionalizing and professionalizing the service.
During a ceremony at Camp Dangwa in La Trinidad, Benguet, the BCPO was given the award after obtaining a 96.03-percent rating in the fourth stage of the Institutionalization Evaluation Process (IEP) under the Performance Governance System (PGS). Along with the award, the BCPO was conferred the Institutionalized Status of the PGS.
The PGS is part of the PNP's Patrol Plan 2030 which began in 2011 and aims to institutionalize and professionalize the service by instilling good practices, correcting the erroneous ones, and adopting the rules and laws on the performance of their functions.
Handing out the award was Baguio City Mayor Benjamin Magalong, who congratulated the BCPO for being the first city police office to be institutionalized and be given the Gold Eagle Award.
"I would like to congratulate the City Police Office because this is historical. The first City Police Office that was able to institutionalize the Patrol Plan 2030. And that's record-breaking. For the BCPO, it took you 11 years," Magalong said.
Among the criteria considered for the award are records management, skills development, upgrade of equipment in terms of mobility, firearms, and communication, effectiveness in terms of lowering crime rate, credibility or the trust rate index, transparency and accountability, and stakeholder support.
The search for the PNP's Gold Eagle awardee entails a rigid process of evaluation jointly conducted by the national headquarters, the regional office, private sector.
City police director Col. Glenn Lonogan said the public's trust and confidence in the city police have allowed it to solve crimes, lower crime rate, and improve the capability of the men and women in uniform.
"We want that the 10 stations (in Baguio) will also have their (separate) Gold Eagle Award so that the entire police force of the city will be recognized and will have a better system of implementing its job," Lonogan added.
"This is important to us because it is not just a plaque, an award that we can display, it means good service rendered and continued to be done for the benefit of the residents and the thousands of tourists who visit the city," the city police director said. (PNA)