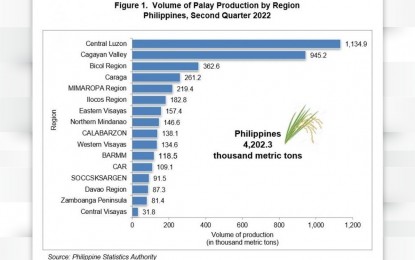 CITY OF SAN FERNANDO, Pampanga – Central Luzon remained the country's top producer of palay in the second quarter of this year.
Based on the latest data of the Philippine Statistics Authority-Regional Statistical Services Office-Central Luzon (PSA-RSSO III), the region produced 1,134,900 metric tons of palay, contributing 27 percent to the country's output.
The production volume is higher compared to the 1,041,700 metric tons during the same period last year.
The double-digit increases in the volume of palay production in the provinces of Nueva Ecija, Bataan and Zambales pushed the hike in the region's overall palay output by 8.9 percent.
On the other hand, Pampanga, Tarlac and Aurora pulled down the production with a decrease of 2.4 percent, 6.0 percent, and 7.7 percent, respectively.
In her report on Wednesday, Arlene Divino, chief statistical specialist and PSA-RSSO III regional director, said that almost all of the palay harvested in the region during the second quarter of the year was from the irrigated ecosystem with 99.9 percent while only 0.1 percent came from the rainfed ecosystem.
Palay harvested under the irrigated ecosystem grew by 9.7 percent to 100,500 metric tons.
Rainfed ecosystem, on the other hand, recorded an 85.5 percent decline in production volume to 7,300 metric tons.
Nueva Ecija remained the top producer of palay in the region with its registered production of 791,900 metric tons for the second quarter of this year.
This constituted 69.8 percent of the region's total production.
This was followed by the provinces of Bulacan, Pampanga, and Tarlac with 8.0 percent, 7.6 percent, and 6.6 percent, respectively.
The combined production of Aurora, Bataan, and Zambales comprised the remaining 8.0 percent of the total palay production of the region. (PNA)