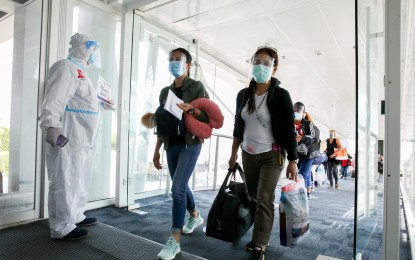 MANILA – The Philippines and other Asian nations are not yet included in Taiwan's latest list of countries eligible for visa-free entry.
Taiwan Ministry of Foreign Affairs (MOFA) spokesperson Joanne Ou on Wednesday said the Philippines was not technically suspended, rather its inclusion in the scheme, which lapsed in July 2022, has just yet to resume.
"[W]e didn't 'suspend' it, most of the Asian countries haven't been 'resumed' just yet, but I am sure it will be in our next round of considerations," she said.
"For the rest of Asian countries, it will be in our next round of considerations, so it was not 'suspended', but rather just not yet. And of course, we highly value the good relationship with the Philippines," she added.
Based on the September 6 advisory by Taiwan MOFA's Bureau of Consular Affairs (BOCA), only 54 countries, including Australia, the United States, and France are allowed visa-free entry to Taiwan effective September 12.
There were 66 countries originally eligible for the visa-free entry treatment, said Ou.
Aside from the Philippines, the scheme has yet to resume for Japan, South Korea, Singapore, Malaysia, Thailand, Brunei, Russia, Israel, Chile, Dominican Republic, and Nicaragua.
The ministry added that Filipino vessel/aircraft crew members or service personnel intending to board to report for duty are "ineligible for the visa-free entry".
Filipinos were first included in the scheme in a nine-month trial period from November 2017 to July 2018, allowing them to stay visa-free in Taiwan for at least 14 days.
The policy had been extended and continued through July 31, 2022.
"For the 2022-2023, (there is) no complete official announcement from BOCA yet," the Taipei Economic and Cultural Office in the Philippines said Wednesday night.
In past statements, TECO said Manila's initial inclusion was a "display of Taiwan's amity with the Philippines" and to boost the travel convenience for Filipinos visiting Taiwan. (PNA)
(Erratum: An earlier version of this article indicated that the visa-free entry privilege for the Philippines was halted in 2020. This has been corrected to reflect that the scheme had been extended annually since Manila was included in 2017 until the lapse of the most recent extension from August 1, 2021 to July 31, 2022.)