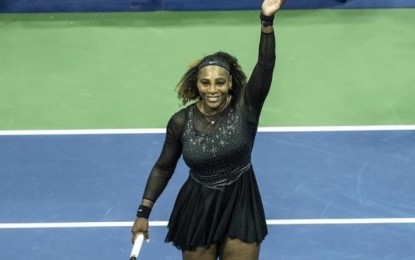 ANKARA – Serena Williams is expected to bid adieu to tennis after she hinted at retirement in August in a personal essay she penned for Vogue -- an American monthly fashion and lifestyle magazine.
The icon of women's tennis -- with 23 Grand Slam titles and four Olympic golds -- exuberates confidence and has always been an advocate for equality.
Many believe Williams, who was eliminated from the 2022 US Open after losing to Ajla Tomljanovic in Round 4, will call it quits after the tournament.
Early life
Williams was born on Sept. 26, 1981, in Saginaw, Michigan. Her family moved to Compton, California, where she started playing tennis at age four.
Williams and her sister Venus Williams were trained by their father Richard Williams.
When she was nine, her family decided to move again to West Palm Beach, Florida so she could be more professionally trained by tennis coach Rick Macci.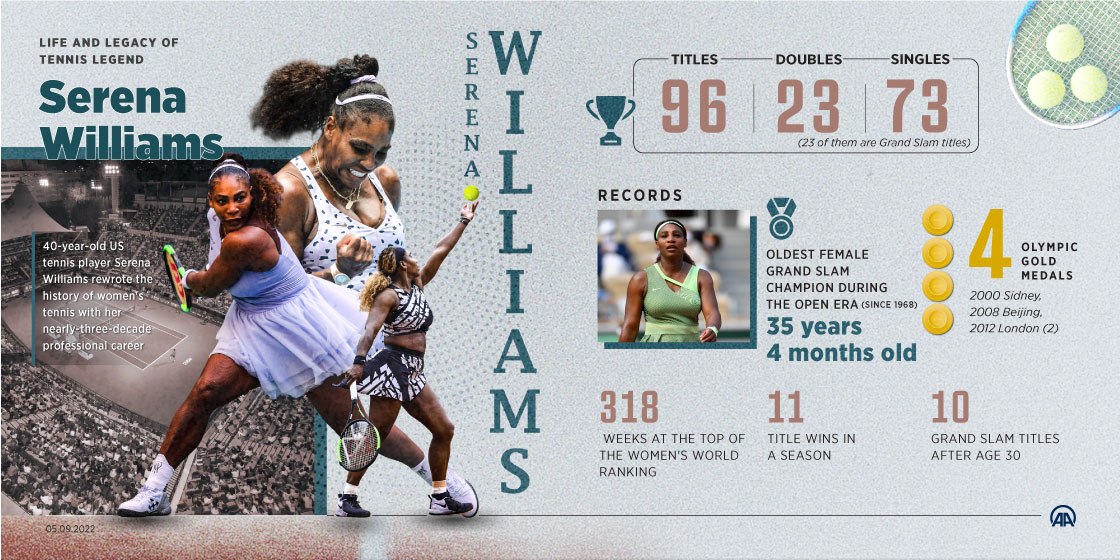 In 1995 at age 14, she participated in her first professional event, the Bell Challenge, in Quebec. Despite her parents' wish for her to wait until 16, she won two games before losing to Annie Miller in the first qualifying round.
She gained her first significant titles in 1998 with her Belarusian partner Max Mirnyi by winning the mixed doubles at Wimbledon and the US Open.
In 1999, she clinched her first professional singles title by defeating French player Amelie Mauresmo in the final of the Open Gaz de France.
Major titles with her sister, Venus
Williams claimed her maiden singles Grand Slam title by defeating then-world no.1 Martina Hingis in the 1999 US Open final. With this victory, she made history by becoming the second African-American woman, after Althea Gibson in 1958, to win a Grand Slam singles tournament.
Williams also bagged the women's doubles title in the 1999 US Open, along with her sister, after beating the Chanda Rubin-Sandrine Testud duo in the finals.
The same year, the Williams sisters also clinched the French Open women's doubles title by defeating the Martina Hingis-Anna Kournikova duo in the finals.
Williams began 2000 with some surprise defeats and injuries but bagged the women's doubles title in Wimbledon with her sister. She lost to her sister in the tournament's singles semifinals.
She won her maiden Olympic gold with her sister in the women's doubles at the 2000 Sydney Olympic Games by defeating the Netherlands.
The dynamic duo completed a "Career Grand Slam" -- winning all four major women's doubles titles -- by bagging the women's doubles at the 2001 Australian Open.
Williams finished 2001 as world no. 6 for the second straight year.
'Serena Slam'
After failing to make it to several Grand Slams finals, Williams won Wimbledon for the first time in 2002 by beating her sister in the women's singles final and ranked world no.1 for the first time.
The Williams sisters also bagged the 2002 Wimbledon women's doubles for the second time.
Williams then went on to win the 2002 US Open as well, again winning against her sister in the final.
At the 2003 Australian Open, she marked another historic moment as she became the fifth woman to hold all Grand Slam singles titles simultaneously, dubbed the "Serena Slam" by the press, after defeating Venus in the women's singles final.
The sisters clashed once more in the final of the 2003 Wimbledon women's singles and Serena walked away victorious once again.
Injuries, second wind
After the 2003 Wimbledon, Williams underwent surgery on the quadriceps tendon in her knee. She ranked no.7 in the world but could not bag any Grand Slams in 2004.
The same year, Williams was hit by some personal loss. Her half-sister Yetunde Price died in a shooting.
In 2005, she claimed the Australian Open women's singles title but would have to wait for another two years for another Grand Slam win.
Despite being regarded as out-of-shape by many and participating as unseeded due to ranking no.81, Williams shocked everyone by winning the 2007 Australian Open singles title by defeating tournament favorite Maria Sharapova 6–1, 6–2 in the final.
After the tournament, Williams experienced some knee, muscle, and dental injuries.
In 2008, she reached the Wimbledon singles final but lost to Venus this time. Then in the 2008 Beijing Olympics Women's doubles, the Williams sisters claimed gold.
She went on to bag the 2008 US Open singles title and ranked as world no. 1 for the first time since 2003.
At the 2009 Australian Open, she won two trophies as she won the women's singles and the women's double with Venus Williams. She also becomes the all-time career prize money leader in women's sports.
In 2009 Wimbledon, another Williams sisters final ended with her victory and she bagged her 11th Grand Slam singles title. Then the sisters teamed up to win the Wimbledon women's doubles title for the second consecutive year.
The duo bagged their 10th doubles title in the 2009 US Open but Williams lost to Kim Clijsters amid controversy involving shouting at a line judge.
Williams finished 2009 ranking no. 1 for the second time in her career.
She remained somewhat silent until 2012 when she bagged another Wimbledon singles trophy with a record of 24 aces by a woman in the final and marking the most aces made by a tennis player during the tournament.
She then dominated the 2012 London Olympics, clinching gold medals in both women's singles and doubles, the latter with her sister.
Williams claimed three consecutive women's singles titles in the US Open in 2012, 2013, and 2014. In 2013, she became the oldest world no.1 in WTA history at the age of 31.
Williams bagged five more singles titles; in Wimbledon (2015, 2016), in French Open (2015), in Australian Open (2015, 2017) and one doubles title with Venus in 2016 Wimbledon until she gave birth to her daughter, Alexis Olympia Ohanian Jr. in 2017.
She then returned to tennis to become runner-up in four more Grand Slam finals; twice in Wimbledon (2018, 2019) and twice in US Open (2018, 2019).
After her retirement hinting announcement saying she was "evolving away from tennis, toward other things that are important to me" in August, the 2022 US Open is being dubbed as the last tournament of the 40-year-old.
Controversies, activism
There were rumors that their father was fixing the matches between the two sisters.
In the 2001 Indian Wells, Venus Williams, who was scheduled to play against her sister in the semifinals, withdrew citing injury. In the final against Belgian Kim Clijsters, the crowd booed Serena Williams when she came out to play and continued to boo her intermittently through the entire match, even at the award ceremony after her win.
The following week, their father claimed that racist comments were made to him in the stands and demanded an official apology from the tournament director. After these claims and demands were rejected by the officials, both sisters decided to boycott the Indian W
ells Masters. Williams ended her boycott in 2015 and Venus ended hers in 2016.
Williams was suspended from the 2010 US Open or other Grand Slam events as a result of unsportsmanlike conduct -- slamming her racket on the court after losing the first set and yelling at a lineswoman -- in the 2009 US Open semifinal round against Kim Clijsters.
She was involved in social change throughout her career. She mainly used social media as a medium for expressing her views. She openly supported the Black Lives Matter movement.
Williams once wrote an open letter about gender equality and her struggles as a woman in tennis for a magazine in 2016.
The National Association for the Advancement of Colored People (NAACP) honored Williams with the President's Award in 2003.
She has carried out philanthropic activities in several African countries through the Serena Williams Foundation.
Legacy, playing style
Williams is regarded by many as one of the best female tennis players of the Open Era. She has 23 Grand Slam titles and has stayed at the top of the world ranking for 318 weeks.
In 2018, Swiss tennis legend Roger Federer said the player who probably had the best case for tennis "Greatest Of All Time", man or woman, was Williams.
Williams' game is centered around her powerful serve and forceful groundstrokes. She can be defined as an aggressive baseliner. Williams has a high-risk play style.
She once served a 128.6 mph (207 km/h) ace, which was recorded as the third fastest serve in WTA history.
Her aggressive return of serve, athleticism, and mental strength is deemed remarkable by many.
Many fellow players including Naomi Osaka and Coco Gauff have praised Williams and said they would not be playing tennis if it were not for her.
King Richard, a biographical movie based on the life of Richard Williams, was released in 2021. Will Smith, who portrayed the Williams sisters' father in the movie, won Best Performance by an Actor in a Leading Role at the 2022 Academy Awards. (Anadolu)