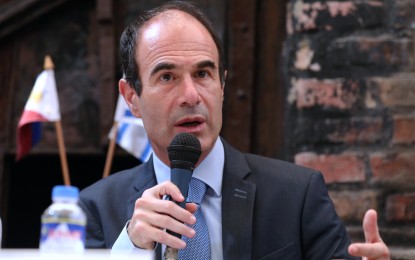 MANILA – Israel wants to increase cooperation with the Philippines on agriculture, cybersecurity, and other areas of mutual interest after the two countries cap their 12th Joint Commission Meeting this week.
The political dialogue, held in Manila on Sept. 5, was led by Foreign Affairs Assistant Secretary Alfonso Ver and Israel Ministry of Foreign Affairs Deputy Director General for Asia and the Pacific Rafael Harpaz.
"The Israeli delegation emphasized building bridges of innovations between the two countries in the areas of agritech, watertech, cybersecurity, ICT and connectivity, and more. Also included in the agenda is the topic of counterterrorism and the expansion of the defense cooperation between Israel with the Philippines," the Israel Embassy in Manila said in a statement.
The delegations also discussed regional and international developments, particularly in the Middle East, Iran, and the West Philippine Sea.
On agriculture, Israel Ambassador Ilan Fluss said Israel would share with the Philippines its expertise as the two sides discussed solar-powered irrigation, increasing dairy output, as well as Israel's agriculture internship for Filipinos.
"We are happy to share our expertise in the field of agriculture with the Philippines to address productivity and food security," he said, citing a recent meeting with President Ferdinand Marcos Jr. who sought to enhance agriculture cooperation with Israel.
Aside from agriculture, innovation, and cybersecurity, the two sides also reviewed relations on trade, people-to-people ties, and tourism. (PNA)