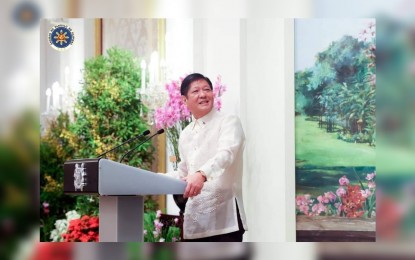 MANILA – The Philippines has secured USD14.36 billion (PHP804.78 billion) in investments from President Ferdinand "Bongbong" Marcos' "fruitful" and "engaging" inaugural state visits to Indonesia and Singapore.
Marcos himself made the announcement upon arrival at the Ninoy Aquino International Airport Terminal 2 in Pasay City on Wednesday night.
"I am proud to announce that we have signed and sealed a total of 10 Letters of Intent and 12 MOUs [memoranda of agreement] in the sectors of: renewable energy, data centers, e-commerce, broadband technology, start-ups, government housing, and agriculture, and witnessed the signing of several Letters of Intent and MOUs from 22 Indonesian and Singaporean investors," he said.
"These investments, if we put it all together, value USD14.36 billion or PHP804.78 billion. This will support our country's economic recovery efforts and create more jobs for Filipinos here in our country," he added.
The Philippines will bring home USD8.48 billion (PHP466.6 billion) worth of business deals from Indonesia and USD6.54 billion (PHP374.57 billion) worth of deals from Singapore, according to separate press releases from the Presidential News Desk.
Marcos thanked the governments of both Indonesia and Singapore for the opportunity to reaffirm their friendship and explore avenues of cooperation that will benefit their respective countries.
"Indeed, my back-to-back visits to Indonesia and Singapore I think have been thoroughly worthwhile," he said.
Although these investment deals were just the "beginning" of foreign investors' interest to invest in the Philippines, he said his administration would work hard to bring the agreements to fruition.
He also said the government would "not stop" until the ordinary Filipino can feel these economic gains.
"We are all now going to bend ourselves to this work. We will not stop until we can come back and say, itong mga nasimulan na MOU, itong nasimulan na Letters of Intent, ay nagkaroon na ng resulta (these MOUs, these Letters of Intent, now have results)," he said.
Meanwhile, Marcos assured overseas Filipino workers in Indonesia, Singapore, and other parts of the world, that his administration would "take care" of them.
"Kahit na wala sila dito sa Pilipinas, sinisigurado ng ating pamahalaan na aalagaan pa rin natin sila (Even if they are no longer in the Philippines, our government will make sure that we will still take care of them). Our kababayans continue to be a source of pride as they demonstrate to the world that Filipinos excel at whatever endeavor they choose to undertake," he said.
He also thanked them for their continued support and trust, which he said continues to motivate him to do his best as the country's leader.
Marcos marked his inaugural state visits in Indonesia from Sept. 4 to 6 and Singapore from Sept. 6 to 7.
Indonesia visit
During his trip to Indonesia, Marcos said he and President Joko Widodo witnessed the signing of agreements on defense, security, creative economy, and culture.
Their governments also agreed to pursue joint activities for the next five years after their respective foreign ministers signed the Philippines-Indonesia Plan of Action for 2022-2027, which lays out the priorities and concrete ways forward for bilateral cooperation.
Both governments also renewed their commitment to stronger bilateral cooperation as fellow members of the Association of Southeast Asian Nations (Asean) and members of two of the largest maritime nations in the world.
Marcos and Widodo discussed the delimitation of boundaries respective to Philippine and Indonesian continental shelves, which he hoped could become a template for resolving conflicting claims.
The two leaders also tackled importing fertilizers into the Philippines and increasing coal imports for energy supply.
Marcos also expressed excitement in the celebration of 75 years of official diplomatic friendship between the two countries in 2024.
Singapore trip
While in Singapore, Marcos and Prime Minister Lee Hsien Loong witnessed the signing and exchange of agreements on counterterrorism, personal data protection, digital cooperation, water resource management, and investment.
Marcos also met with the members of the different business communities to explain this administration's policies and economic priorities to promote the Philippines as an investment destination.
He said Singaporean President Halimah Yacob spoke highly of her state visit to the Philippines in 2019, in celebration of 50 years of diplomatic relations.
Marcos said he and Lee also "made a connection" because their fathers, who were past leaders of their respective countries, laid the groundwork for the foundation of Asean starting in 1967.
According to Marcos, his trips to Indonesia and Singapore offered an opportunity to exchange views with the leaders on important regional and global issues that affect security in our region.
"We were cognizant of our roles as neighbors and partners in Asean. We all shared the view that in this time of geopolitical turmoil and uncertainty, unity, mutual respect, and the principle of sovereign equality should always prevail in our efforts to uphold peace and stability and an environment conducive to our continued national development," he said.
Marcos and his economic team met with Indonesia and Singapore investors and urged them to invest in the country.
Indonesia and Singapore are key trade and investment partners of the Philippines. (PNA)