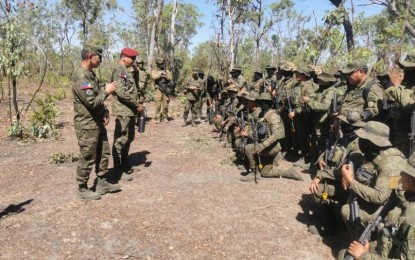 MANILA – The Philippine Army (PA) on Thursday said around 2,200 soldiers started their military training at the Training and Doctrine Command (TRADOC) at Camp O' Donnell in Capas town, Tarlac province last Sept. 5.
Army spokesperson Col. Xerxes Trinidad said this is the third training cycle for this year to improve the skills, preparedness, and combat effectiveness of the troops.
The opening ceremonies were held in a hybrid manner or a mix of physical and virtual activities, he added.
Trinidad said Special Operations Command (SOCOM) chief Maj. Gen. Francisco Ariel A. Felicidario III served as the event's guest-of-honor and speaker.
The SOCOM chief encouraged students to apply the knowledge and skills they gained in TRADOC once they report back to their respective units.
"Training allows every soldier to acquire the needed knowledge, skills, abilities, and attitudes necessary to perform and complete specific tasks," Felicidario added.
Around 2,200 students are currently enrolled in 81 career and specialization courses offered by TRADOC and its organic and extension schools, including division training schools (DTS).
The TRADOC's offering of service courses at various DTS across the country is in accordance with the medium-term force structure of the PA wherein the infantry divisions will focus on their core functions and operational campaign.
PA chief Lt. Gen. Romeo S. Brawner Jr., in his latest command guidance, has prioritized the enhancement of individual soldiers' skills and capabilities.
"We shall pursue education and training programs that will constantly improve the preparedness and combat effectiveness of our forces," he added. (PNA)