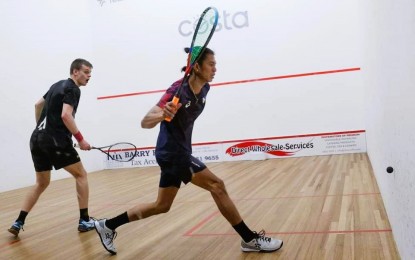 MANILA – Robert Andrew Garcia of the Philippines kicked off his campaign at the City of Devonport Tasmanian Open with a 3-2 victory on Wednesday night at the Devonport Squash Club in Tasmania, Australia.
The world No. 177 Filipino outplayed Malaysian Bryan Lim Tze Kang, 11-7, 11-7, 8-11, 9-11, 11-6, to book a second-round berth in the level 10 event on the Professional Squash Association (PSA) Challenger Tour.
"I played well in the first two sets, then I became complacent in the third that I wanted to finish the match. In the fourth set, I received bad calls from the referee. After the fourth set, I got some coaching from world No. 57 Muhammad Asim Khan from Pakistan on how I should play. That helped a lot," said Garcia in an online interview after the 75-minute match.
Garcia's second-round match will be against world No. 80 and third seed Malaysian Addeen Idrakie, who drew a first-round bye along with No. 1 Muhammad Asim Khan (Pakistan), No. 2 Tsz Kwan Lau (Hong Kong), No. 4 Mohammad Syafiq Kamal (Malaysia), No. 5 Lwamba Chileshe (New Zealand), No. 6 Darren Rahul Pragasam (Malaysia), No. 7 Yannick Wilhelmi (Switzerland) and No. 8 Chi Him Wong (Hong Kong).
"I think I have a chance because I know his game. We have the same skills but he's faster. I'll do my best to beat him," said Garcia, who registered a career-high No. 165 ranking after reaching the quarterfinal round at the Dynam Cup SQ-Cube Open in Yokohama, Japan last May.
The Tasmanian Open is the fourth competition for Garcia since arriving in Australia last August 14. He had played at the Costa North Coast Open in Coffs Harbour City (Aug. 14-21), Alto Group Pennant Hills Open in Sydney (August 25-28) and the Volkswagen Open in Bega, New South Wales (Aug. 31-Sept. 4).
Garcia had an early exit at the Costa North Coast Open, losing to Australian Nicholas Calvert, 11-13, 7-11, 11-9, 14-12, 11-13, in the first round.
"It's winter here and I'm having difficulty adjusting to the cold. I cannot feel my shots because the bounce of the ball is different," said Garcia, who won the mixed team gold and men's singles silver medals during the 2019 Southeast Asian Games.
In Sydney where he was the tournament fourth seed, Garcia defeated Malaysian Amir Amirul, 11-7, 4-11, 11-5, 11-5 to book a quarterfinal ticket. But he lost to fifth seed Australian Rhys Dowling, 10-12, 5-11, 11-6, 8-11.
At the Volkswagen Bega Open, Garcia bowed to Hong Kong's Chung Yat Long, 7-11, 11-6, 11-7, 2-11, 9-11, in the first round.
"I would have hoped for Robert to reach the quarterfinals in the recent past tournaments. That's squash for you. You can never let up until after the last point. The cold weather, too, was difficult for him as well," said Philippine Squash Academy president Robert Bachmann. "Two more legs to go. Let's see what he can accomplish."
Meanwhile, Christopher Buraga and Jonathan Reyes are in Malaysia now competing at the 6th CMS Borneo Junior Open.
Accompanied by coach Edgar Balleber, the two players are entered in the boys under-17 class of the Asian Junior Super Series gold event scheduled September 7-11 at the Squash Rackets Association of Sarawak courts in Kuching.
Based on the latest Asian Squash Federation junior rankings, Buraga is No. 4 behind Malaysia's Wa-Sern Low, Korea's Joo Young Na and Malaysia's Harith Daniel Jefri. Pakistan's Huzaifa Ibrahim is No. 5 followed by Malaysia's Kreethi Pillay Muniswaran, India's Aditya Chandani, Malaysia's Lee Hong Wong and Hong Kong's Chung Hin Lee and Tsz-Shing Tam.
More tournaments such as the Asian Team Championships and Southeast Asia Cup Championships are lined up for the national team in preparation for next year's Asian Games in Hangzhou, China. (PNA)