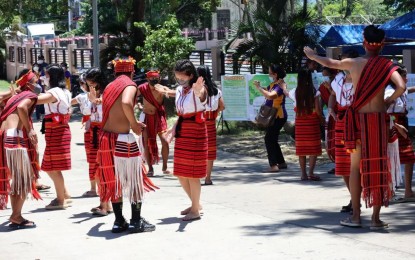 CABARROGUIS, Quirino – The annual Panagdadapun Festival opened in this province on Wednesday with various activities lined up until Sept. 11.
The festivity with the theme "I Love Quirino @ 51: A Celebration of Strength, Resiliency and Unity" highlights its people's unity and resiliency amid the pandemic.
Quirino Governor Dakila Carlo Cua said this year's Panagdadapun, which marks the 51st founding anniversary of Quirino province, has converged villagers from six towns for historical dance performances, exhibits, agro-trade fairs, jobs fair, coffee table book launching, street dancing, family games, fun run, concert, dance and singing contests, beauty pageant, medical-dental service, sports festival, tree planting, and bike race, among others.
"Panagdadapun" is an Ilocano dialect that means gathering.
"Since it was created on Sept. 10, 1971, from the mother province of Nueva Vizcaya, the province has achieved economic, political, and governance stability. I was not born yet then but for 21 years that I am with you, I watched a change of economic development and vision of a prosperous future," he added.
The province's museum has also been opened in time for the celebration, where visitors can take glimpses of the repository of Quirino's unique cultural heritage of the indigenous tribes inluding the Dumagats, Ifugaos, Isinays, Bugkalots, and Gaddangk, as well as lowland villagers.
Cua has also cited the consistency of the province in winning the Department of the Interior and Local Government's Seal of Good Local Governance Award for its excellence in financial administration, disaster preparedness, social protection, and peace and order.
Meanwhile, on Sept. 10, there will be a grand parade featuring a floral offering and town festivals which include the Penenkakasisit of Nagtipunan town, Pagay-Pagay of Saguday, Panagsasalog of Maddela, Ginnamuluan of Cabarroguis, Pammadayaw of Diffun, and Panagsalukag of Aglipay.
The indigenous living and practices of the villagers are also being showcased, the governor said.
However, the provincial government set aside its popular "Motorismo" and wakeboarding events due to the need to observe health protocols against Covid-19.
Quirino province is known for its natural attractions such as the Governor Rapids at the Cagayan River in Maddela, Aglipay Caves and Provincial Forest Park, the Siitan Nature Park and Landingan in Nagtipunan, and various waterfalls and caves, among others. (PNA)