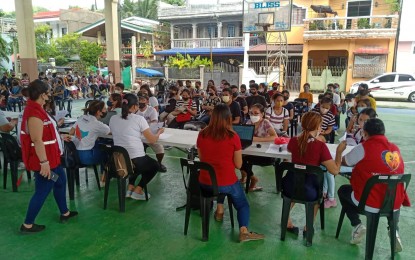 TACLOBAN CITY – The Department of Social Welfare and Development (DSWD) released at least PHP31.26 million in educational assistance to 12,670 poor students in Eastern Visayas in the past three weeks.
Lawyer Jonalyndie Chua, DSWD 8 (Eastern Visayas) information officer, said Thursday the release of cash aid will continue in the next three Saturdays of September to accommodate more applicants.
"Accepting new applications has been temporarily stopped since we have to process the information encoded by more than 300,000 applicants in our online appointment portal. We are making sure that there's no duplication since some registrants have multiple entries," Chua told the Philippine News Agency (PNA).
The DSWD will process all existing online applications before reopening the portal, but it will depend on the availability of funds, Chua said.
"We are assured of a budget for educational assistance until the end of September. There are still no discussions if there will be disbursements in October," she added.
The agency started the distribution of cash assistance to students in "crisis situations" on August 20.
Overcrowding in DSWD offices, prompted the agency to open an online appointment portal to accommodate applicants for the August 27 distribution.
Despite the online appointment, many students showed up at DSWD offices on August 27 for a chance to receive cash assistance, Chua said.
"Last September 3 was the most organized since there were no more walk-in applicants. Our staff was able to focus on processing the application instead of taking part in crowd control," she said.
Through the DSWD's Educational Assistance under the Assistance to Individuals in Crisis Situation, cash aid is provided to "students-in-crisis" to help defray costs of school tuition, school supplies, transportation allowance, and other school-related expenses.
The aid is given through outright cash grants worth PHP1,000 for elementary learners, PHP2,000 for high school, PHP3,000 for senior high school, and PHP4,000 for college and vocational courses. (PNA)