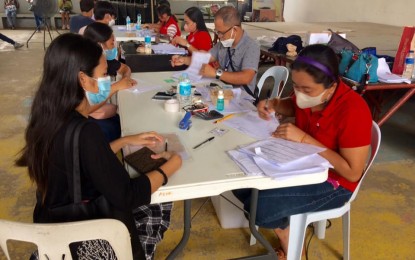 ILOILO CITY – The Department of Social Welfare and Development (DSWD) temporarily stopped accepting online applications for educational assistance in Western Visayas on Wednesday to allow time for the processing of pending requests.
Atty. May Rago-Castillo, DSWD Western Visayas information officer, said on Thursday that from Aug. 20 to Sept. 7, the regional office received 591,744 online applications and so far 547, 924 are still to be subjected to cross-matching.
"We cross match the data with the 4Ps (Pantawid Pamilya Pilipino Program) because they are not qualified for the program. We also cross-match the data with those who already received their payout," she said in an interview.
Of the 43,820 that were cross-matched, 12,065 have been served, 6,936 were found belonging to 4Ps households, while 24,819 are still for assessment and payout subject to the availability of funds.
Rago-Castillo added that the regional office will make the necessary announcement once the online registration resumes.
"We will issue an advisory. This AICS (Assistance to Individuals in Crisis Situation) education assistance is a regular program of the DSWD," the information officer said.
The DSWD has also elevated to their central office the concern on funding requirements and now waiting for Secretary Erwin Tulfo to issue a statement.
Western Visayas has been allocated PHP91 million for educational assistance and the last three payouts have released PHP76.561 million for 27,280 students in crisis in the region.'
The department also emphasized that the no walk-in policy will continue to be observed in the succeeding payout.
The educational assistance is for students in crisis including breadwinners; working students; children of unemployed parents, solo parents, overseas Filipino workers in distress and with human immunodeficiency virus (HIV); orphaned, abandoned, or staying with
relatives; abused or displaced children; and victims of human-induced or natural calamities.
Qualified beneficiaries enrolled in elementary grades will receive PHP1,000; PHP2,000 for secondary; PHP3,000, Senior High School; and PHP4,000, college. (PNA)