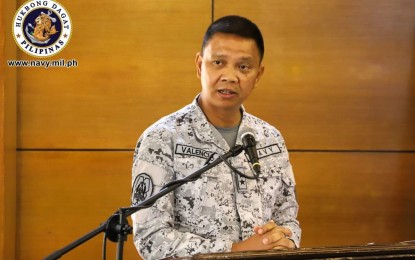 MANILA – Philippine Navy (PN) vice commander Rear Adm. Caesar Bernard Valencia will lead the force as acting flag-officer-in-command, replacing outgoing chief Vice Adm. Adeluis Bordado.
Armed Forces of the Philippines (AFP) chief-of-staff Lt. Gen. Bartolome Vicente Bacarro confirmed this in a message to reporters Thursday.
Valencia, a member of the Philippine Military Academy (PMA) Class 1990, served as Naval Forces Northern Luzon commander in 2019 before being appointed Chief of Naval Staff in 2021 and PN vice commander in August of this year.
"For now, it would be in an acting capacity because we don't have a shortlist yet as we are waiting for the IRR (implementing rules and regulations) of Republic Act 11709," Bacarro said in mixed English and Filipino.
The change of command and retirement rites for Bordado were held late Thursday afternoon at the PN headquarters in Naval Station Jose Andrada, Roxas Boulevard in Manila.
The event was presided by Department of National Defense officer-in-charge Undersecretary Jose Faustino Jr.
In his speech, Valencia pledged to continue the thrusts and guidance of his predecessor.
"I am merely a steward until our Commander-In-Chief (President Ferdinand R. Marcos Jr) decides who gets the mantle of leadership of this maritime nation's premier fighting force at sea and from the sea," the acting PN chief added.
Valencia also added that all policies and directives of Bordado "shall remain in effect until rescinded by me."
"We are not here to create a new legacy but instead to protect and nurture the PN's future as we have collectively crafted in our Sail Plan 2028. The intertwined concepts of continuity and change will remain to be the command's guiding principles, carry on from our previous leaderships. We will continue to improve and standardize our systems as we operate on the concept of interoperability and jointness," Valencia added.
Also scheduled to bow out of military service is AFP vice chief-of-staff Lt. Gen. Erickson Gloria, who will reach the mandatory retirement age of 56 on Friday.
Bordado and Gloria are both members of the PMA Class of 1988.
Bacarro has yet to provide information on Gloria's possible replacement.
Republic Act 11709, signed by former President Rodrigo Duterte in April, sets a fixed three-year tour of duty for the AFP chief of staff, vice chief of staff, deputy chief of staff, major service commanders (Army, Air Force, and Navy), unified command commanders, and inspector general "unless sooner terminated by the President.
Under the new law, the President may extend the AFP chief-of-staff's tour of duty in times of war or other national emergency declared by Congress.
The law also gives the PMA superintendent a tour of duty of four years, "unless sooner terminated by higher authority."
Meanwhile, the law also provides for the compulsory retirement of military personnel at 56 or 30 years' satisfactory active duty, whichever is later -- for those in the grades of second lieutenant/ensign (O-1) to colonel/captain (O-6).
For those in the grades of brigadier general/commodore (O-7) to lieutenant general/vice admiral (O-9), the retirement age will be 59 or the maximum tenure-in-grade, whichever comes earlier.
Officers or enlisted personnel may avail of optional retirement upon accumulation of at least 20 years of satisfactory active duty.
The law also provides that officers and enlisted personnel shall be retired one rank higher from the last rank held, provided that retirement benefits shall be based on the permanent grade last held, though this will not apply to those still in active duty prior to the effectivity of the law; and provided that the said retirees will form part of the Reserve Force.
Republic Act 11709 also limits the number of general officers to 0.01 percent of the AFP's total strength and will reduce the number of its general officers from the present 196 to 153. (PNA)