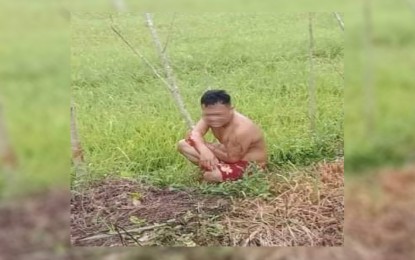 ILOILO CITY – The Philippine National Police (PNP) on Thursday arrested one of the leaders of the Libuna-Lego Gang, notorious for robbery and gun-for-hire operations in Iloilo province.
Iloilo Police Provincial Office (IPPO) spokesperson, Senior Master Sergeant Francisco Lindero Jr., identified the suspect as 41-year-old Joan Lego who was arrested together with his live-in partner 28-year- old Maylin Araneta at their temporary residence at Barangay Acao in Cabatuan town, Iloilo.
"Lego has four pending warrants of arrest that were implemented this morning," he said.
He has warrants for illegal possession of firearms and explosives, theft, carjacking, and two counts of robbery.
Araneta, meanwhile, has a warrant of arrest for theft. She is currently in the custody of the Cabatuan municipal police station (MPS).
Lego got wounded after a shootout when he attempted to fight back.
He was rushed to the Ramon Tabiana Memorial District Hospital also in Cabatuan for immediate medical attention but was later transferred to a hospital here.
"They are very active and their area of operation is in Iloilo. Their primary activity is robbery holdup and secondary is gun-for hire. They are also involved in other crimes based on the warrants of arrest that were implemented," Lindero said.
The operatives recovered from the suspects a homemade 12-gauge shotgun loaded with one ammunition, two more live ammunition, one fragmentation grenade, and one black bag.
Lindero added that Lego has long been wanted for crimes but temporarily hid in Cavite as per monitoring of the police.
"This (arrest) will have an impact on our anti-criminality campaign in the province and other parts of the region considering that they also have activities in neighboring provinces. The capture of Lego would also send a message to his co-leader Rowen Libuna that it won't be long before he will be arrested," Lindero added.
Joining the joint police operations were the MPS of Cabatuan, Lambunao, Pototan, and Guimbal, Iloilo Provincial Special Operations Group, and the 602nd and 603rd Companies of the Regional Mobile Force Battalion 6. (PNA)