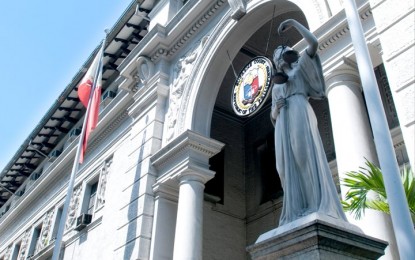 MANILA – The Supreme Court (SC) has dismissed a petition questioning the decision of monetary authorities in a suit brought against a rural bank by a borrower.
In its decision uploaded online on Sept. 1, the high court dismissed a suit filed by a realty developer questioning the ruling of the Bangko Sentral ng Pilipinas Office of the Special Investigation (BSP-OSI) in an administrative complaint he filed against the Rural Bank of San Luis, Pampanga.
In 2014, the BSP-OSI ruled that the petitioner Willy Fred U. Begay failed to establish that the bank and its officers conducted business in an unsafe and unsound manner. The bank on May 31, 2012, issued him a statement of account showing that his total obligation amounted to PHP57.5 million.
"The court is not duty-bound to analyze or weigh all over again evidence already considered in the proceedings before the OSI," the SC through Associate Justice Ramon Paul I. Hernando, said.
"Factual findings of administrative bodies charged with their specific field of expertise, are afforded great weight by the courts, and in the absence of substantial showing that such findings were made from an erroneous estimation of the evidence presented, they are conclusive, and in the interest of stability of the government structure should not be disturbed," the SC added.
Begay took the case to the SC after the Court of Appeals (CA) in 2018 similarly upheld the BSP-OSI's position on the case.
The bank originally gave Begay who is engaged in real estate in Benguet and Tarlac a loan of PHP6 million in January 2009 and mortgaged two of his properties as securities. By November 2009, the loans had reached PHP8 million. In 2010, he applied for additional loan amounting to PHP2 million.
When he was unable to settle his obligations, the bank allegedly proposed for Begay to look for individuals who can represent him for additional loans against his other properties so that the bank would not exceed regulations on single borrower's limits. Begay then obtained two more loans through his representatives amounting to PHP3.5 million in total.
The process was repeated until Begay's obligations ballooned to PHP57.5 million by May 31, 2012, according to the bank. The bank also claimed that the loans in the names of Begay's alleged representatives are considered distinct and separate from his loans and that the said representatives obtained their personal capacities and are therefore not violative of the single borrower's limits on banks.
In 2013, Begay filed an administrative complaint against the bank before the BSP-OSI for allegedly unsafe business manner in violation of a number of laws including RA 8791, or the General Banking Law of 2000; RA 7653 or the New Central Bank Act; RA 3765 or the Truth in Lending Act, among others.
The BSP-OSI, however, said the petitioner failed to establish his claim that he was the real sole owner of the loans and that the bank officials had any participation in the alleged simulated sale between Begay and his representatives. (PNA)