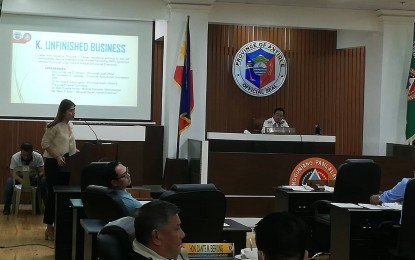 SAN JOSE DE BUENAVISTA, Antique – The Antique Provincial Board will be holding public consultation meetings to get feedback on the proposed resolution to divide the province into two legislative districts.
The Board during its regular session on Thursday decided that the en banc resolution calling legislators from Antique to enact the apportionment of the province of Antique into two congressional districts be referred to the committee on laws, ordinances, and good governance for proper consultation before its approval.
The proposed resolution was supposed to be addressed to Senate President Pro-Tempore Loren Legarda, Antique Lone District Rep. Antonio Agapito Legarda and Partylist Rep. Felimon Espares of the Coop-NATCCO, who is also from this province.
"We decided that we need to get the opinion of the various stakeholders on the committee level before we decide on the plenary so that we would still know what are the other things to be done or considered," said Board Member Karmila Rose Dimamay in an interview.
The committee hearing that will be conducted next week will be participated by various sectors in the province, with Senator Legarda, Representatives Legarda and Espares, Governor Rhodora Cadiao and mayors in the province are expected to attend, for them to share their positions on the move.
Board Member Jessielito Pio Sumande, in a separate interview, said the province's congressional development fund of PHP350 million per district will be doubled if there are two districts.
"Dividing Antique into two districts is already a longtime dream of the people," he said.
Sangguniang Kabataan Federation and provincial board ex-officio member Mark Canja said that it would be advantageous if there will be two districts considering that the students from the north no longer have to travel to San Jose de Buenavista for their official transactions like to follow up on their scholarships with the congressional office.
"Our fresh graduates living in the north would have easy access to the congressional office put up in the north and even have opportunity to apply for work there," he said.
He said that the congressman in the north could also focus on delivering projects for the municipalities in the northern towns.
The towns of Anini-y, Tobias Fornier, Hamtic, San Jose de Buenavista, Sibalom, San Remigio, Belison, and Valderrama will be under the south district while municipalities of Patnongon, Barbaza, Bugasong, Caluya, Culasi, Laua-an, Libertad, Pandan, Sebaste, and Tibiao will be with the north district should the proposed two districts will be realized. (PNA)