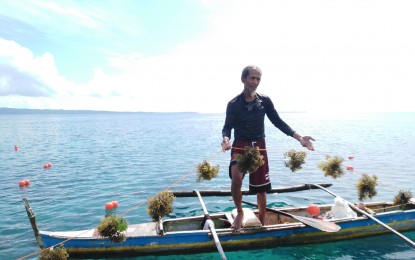 LEGAZPI CITY – At least five seaweed nurseries have been set up in Bicol to boost year-round production and give additional income to the fisherfolk, the Bureau of Fisheries and Aquatic Resources in Region 5 (BFAR-5) said Thursday.
In an interview, Nonie Enolva, BFAR-5 spokesperson, said the seaweed nurseries also aim to help ensure constant seedlings for those who want to try farming and the production of dried and fresh supplies.
"Seaweed farming or seaweed culture serves as one alternative option for our fisher folks when they can't catch enough fish, its another source of income since after 45-60 days they can harvest since the command of seaweed price is good that ranges PHP20.00 per kilo for fresh and PHP40 to PHP90 per kilo for dried," Enolva said.
"The one-hectare nursery will ensure readily available seaweed seedlings that will provide an opportunity to those who want to venture into seaweed farming or to expand their existing seaweed farms," she added.
Enolva said BFAR-Bicol provides seaweed farm implements for those who want to go on seaweed farming for as long as they are duly listed in the farmers' registration system.
Among the seaweed nurseries set up in Bicol are in the towns of Garchitorina and Siruma in Camarines Sur, two barangays in Rapu-Rapu in Albay and in Mobo, Masbate.
Enolva said aside from source of income, seaweeds and seagrasses also help as thermal regulators of ocean temperatures.
"Areas with seaweed and seagrasses also serve as nursery ground of small fishes, while it is being used to regulate ocean temperature, that's why we discourage removing it from seabeds," she said. (PNA)