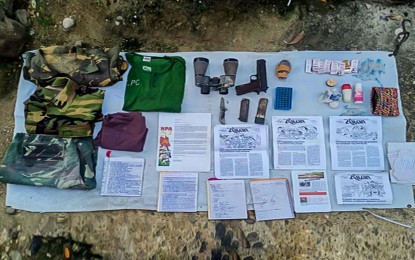 DUMAGUETE CITY – A Communist Party of the Philippines-New People's Army (CPP-NPA) rebel was killed in an encounter with soldiers in a hinterland sub-village in Barangay Trinidad, Guihulngan City, Negros Oriental.
Lt. Col. William Pesase, 62nd Infantry Battalion commander, told the Philippine News Agency on Thursday that Greg Cantilla alias Jordan, 45, was killed during a five-minute firefight between a group of rebels and soldiers in Sitio Manlibod on Wednesday.
"This man was positively identified by former rebels who knew him as well as residents from his village," Pesase said in mixed English and Filipino.
He said Cantilla was an active member of the NPA's Sentro de Grabidad Platoon of the Central Negros 1 (CN1) of the Komitening Rehiyon Negros/Cebu/Bohol/Siquijor.
He said they received information from residents in the area of armed men conducting extortion activities, prompting them to launch an operation.
The NPA rebels fled in different directions after the brief firefight, leaving behind the body of Cantilla, which the troops recovered.
Soldiers also recovered a cal.45 pistol, a hand grenade, two magazines for a .45-caliber pistol loaded with live bullets, live ammunition for a cal.38 revolver, a binocular, and various personal belongings.
Cantilla's body was brought to the city proper so that the next of kin can claim it.
The CPP-NPA is listed as a terrorist organization by the United States, European Union, the United Kingdom, Australia, Canada, New Zealand, and the Philippines.
The National Democratic Front has been formally designated as a terrorist organization by the Anti-Terrorism Council on June 23, 2021, citing it as "an integral and inseparable part" of the CPP-NPA created in April 1973. (PNA)