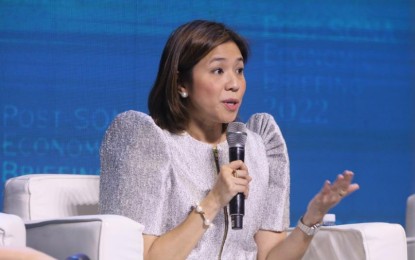 MANILA – The Philippine government has pledged to provide investors from Singapore a conducive regulatory environment.
Budget Secretary Amenah Pangandaman made the commitment before the Singaporean business community during the Philippine Economic Briefing (PEB) held at Shangri-La Hotel in Singapore on Wednesday.
"From our end, the administration will provide the necessary regulatory environment to everyone who wishes to invest in the country," she said during the panel discussion on Economic Performance and Outlook.
Pangandaman said the Philippines is optimistic to attract more foreign investments in the business sector.
"We are here, of course, to ask the help of our partners to invest in the Philippines through public-private partnerships. The Philippines is open and we need your help," she said.
The PEB was hosted by the Department of Finance (DOF) and Bangko Sentral ng Pilipinas (BSP) to present the Philippines' robust economic development and highlight key areas and opportunities for investments.
The DOF, BSP, the Department of Budget and Management, and the National Economic and Development Authority, the agencies that are part of the country's economic team, also discussed the growth outlook, and legislative and policy reforms, among others.
President Ferdinand "Bongbong" Marcos Jr.'s state visit to Singapore yielded USD6.54 billion (PHP374.57 billion) in investment pledges.
Several letters of intent to invest in the Philippines were signed during the Singapore business roundtable meeting on Wednesday.
The commitments are expected to generate jobs for 15,000 Filipinos.
The pledges include a USD5 billion investment in electric tricycles, USD1.2 billion in the new technology of floating solar, and USD200 million in the establishment of an in-country Data Center.
Singaporean businessmen also expressed intent to invest around USD10 million to USD100 million for the so-called "Blue Economy," and USD20 million each for "Innovation Platform for Start-ups" and "Women in Technology."
SM Investments Corp. vice chairperson Teresita Sy-Coson, who represented the private sector in the panel, told Singaporean investors that the Philippines is a good place to invest in.
"There are a lot of things that one can do in the Philippines and in our group, with the private sector, we are inviting a lot of people to come to the Philippines because there are a lot of things that we can do together," Sy-Coson said.
In his keynote address, Marcos invited investors from Singapore to take part in the country's economic resurgence, assuring them that the Philippines is "on a steady path to a strong recovery from the pandemic and a robust economic expansion."
"The Philippines welcomes your investments and looks forward to forging even stronger ties with the Singaporean business community," the Chief Executive said. (PNA)