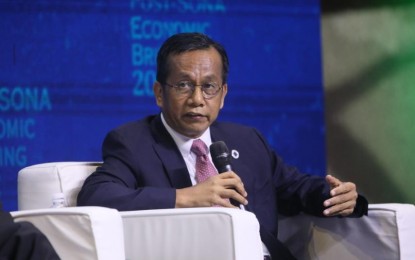 MANILA – The continued reopening of the economy and the resumption of face-to-face classes have been attributed to the drop of the country's unemployment rate to its lowest since the pandemic hit.
Citing data released by the Philippine Statistics Authority (PSA), Socioeconomic Planning Secretary Arsenio Balisacan said unemployment rate slipped to 5.2 percent in July 2022 from 7.2 percent same period last year, which is also the "lowest unemployment rate for all July rounds of the Labor Force Survey since 2005."
During the same period, underemployment declined from 21 percent in July 2021 to 13.8 percent, a drop of around 2.2 million underemployed Filipinos.
"We expect more jobs and income opportunities available for Filipinos in the coming months as we move toward the full reopening of the economy. These opportunities will help temper the impact of global inflationary pressures on the purchasing power of Filipinos," Balisacan, also the National Economic and Development Authority (NEDA) chief, said in a statement Thursday.
The PSA reported that labor force participation during the latest Labor Force survey rose to 65.2 percent after more than 5.1 million workers got employed.
Total employed Filipinos increased to 47.4 million, resulting in an employment rate of 94.8 percent, which the NEDA said is the highest since the onset of the pandemic.
This was boosted by the increase of workers in the services sector, particularly in wholesale and retail trade, along with those in the agriculture and industry sectors.
"The continuous reopening of schools is a pivotal step for all economic players. The latest data show that as more youth have opted to return to face-to-face classes, women were also relieved from additional care work at home, allowing for more possibilities for them to be economically active," Balisacan said.
He thus called for further strengthening of the vaccination program through giving out booster shots "to sustain low alert levels and reinvigorate domestic economic activity."
Balisacan also underscored the need for the timely implementation of programs that are part of this year's national budget, as well as the passage of next year's proposed budget to hasten the economy's recovery and to address external risks.
"Keeping with our motto in NEDA, 'Sentro ang tao sa ating plano' (people are the center of our plan), all Filipinos will benefit from the opportunities made available by our rapidly recovering economy. We are pushing for the full implementation of the eight-point socioeconomic agenda towards economic transformation and betterment of everyone's lives," he added. (PNA)